Keep your brand and logo in front of all convention and trade show attendees with step and repeat banner stands and banner stands.
Step and Repeat Banner Stands Charlotte
What is a Step and Repeat Banner Backdrop?
Step and Repeat Banner Backdrops, sometimes referred to as Media Walls or Press Walls are large format printed banners primarily used at events as the photography backdrop. They are decorated with one or more logos or graphics in a checkered pattern to display a company or organizations support for an event. The design and arrangement of the logos are typically in a diagonal or checkered pattern that spans the entirety of the banner. This special design is one of the reasons it's called "Step and Repeat" as it's a common term in the graphic design industry to describe a function of creating multiples of a certain image across a medium. (Read below for the second reason) This design also allows for the logos and graphics to have a very high probability to be seen in the photos taken regardless of how many people are in front of the step and repeat backdrop.
Why are they so popular?
Custom step and repeat banners are very popular for many reasons. For one they are cost effective when considering the alternative methods of displaying a wall of logos behind a group of people. They are also conveniently very portable, some more than others. (We'll get to why shortly.) There is the added value of being able to use the step and repeat multiple times. Even if the banner has to change you can re-use the stand that comes with it for your new updated banner. Usually high quality banner stand will come with a nice carrying case (any you buy from Heritage Printing will) to keep it organized and protected, and to allow for easy transport.
What are the options when considering a Step and Repeat Backdrop purchase?
When considering a Step and Repeat Banner there are a couple options you should be aware of. Our customer service team does a great job of laying these out, but if you decide to get one somewhere else here's what you need to know.
• The Size
The size of your step and repeat will rely mostly on assuming how many people will need to be in front of it at any given time. What is the approximate size of the groups of people that will be in a photo together? A standard size for a step and repeat backdrop is 8' x 8'. This size can comfortably handle four or five regular people or about eight very close friends. Your decision for size will also take into account how important it is that these photos will have visible logos in them. If the logos are important and you will be taking photos of close friends all evening I'd suggest moving up to the next size of 8'x 10'. That's 10' wide and 8 ' tall. We also offer 10' x 10' if you have an NBA affiliated event and 10' x 12' if the logos are important. Here's a graphic to simplify sizing.

If you need something larger please check out our Hop Up Displays Here.
• The Material
You have two options for banner material. One is Vinyl banner material with a matte finish. This is the more cost effective option and the matte finish is very important as it reduces glare and hot white spots in photos from flash photography. Again, if the logos are important, which they probably are, make sure you're getting a matte finish if you choose vinyl. If you choose Heritage Printing, worry not, we have you covered. The alternative is fabric. Fabric is better for a couple reasons. Firstly, It's the more portable one! You can actually fold most fabric backdrops up to about a one foot by one foot square. Very portable, compared to a vinyl banner that has to be rolled onto a core so that it doesn't crease. Secondly, Fabric is automatically good for photos as it is inherently glare resistant. Also fabric is lighter weight and porous so if it is set up outside it has less of a chance of being blown around, or down. We also offer sandbags for this reason if you are doing an outdoor event.
• The Quality
This is just to say choose a reputable supplier. There are many cheap alternatives to a quality step and repeat backdrop on the internet. Quality matters so much in the design and printing of the banner itself, but be very careful about the actual build of the stand that you order with it. Many companies provide very low grade stands in order to get the price they offer you lower. This will come back to haunt you on the day of your big event. Additionally the attention and care put into shipping and the customer service experience you get when you are placing and receiving the order. At Heritage Printing & Graphics in Charlotte, we check all the boxes.
If you need a Step and Repeat Banner Backdrop for an upcoming event give us a call and we'll take care of you. If you need it for an event that's happening yesterday, we offer expedited processing and shipping and have been known to deliver yesterday, when necessary. Oh, and the other reason it's called a "Step and Repeat". This goes back to Hollywood and photographing stars on the red carpet. As I was told the "step" was from the stars stepping up to be photographed and fellow stars following and "repeating" the step for their photograph. Speaking of red carpets, we also offer red carpets to complete your photography backdrop ensemble if you need that extra flair!
We use high quality aluminum banner stands that are
Made in America!
---
Step and Repeat Banner Stand Gallery
---
Visit us at 2739 Interstate St.
(between Billy Graham Parkway & Freedom Dr.)
(Google map)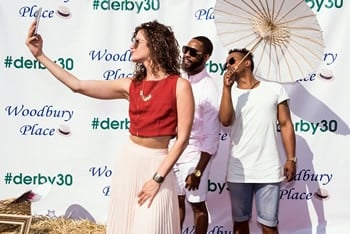 Customer Review via Google+
Thank you for the awesome customer service, quick turnaround (both times) and more importantly producing such a phenomenal product. My son's 30th Derby party was a huge success and the Step and Repeat was the icing on the cake; it looked amazing. Shanna Woodbury
Read More Reviews...