Charlotte Custom Signs and Commercial Printing Services
BIGGER & Better! We have grown our staff, technology and equipment. Our New VUTEk is AMAZING!!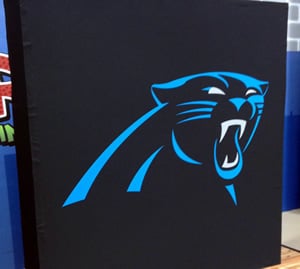 Custom Cut Signs: Uniquely designed and produced custom signs that will make your company logo and brand message come to life!
Convention & Meeting Displays: We produce and install award winning event displays and interior signs for all types of meetings and venues.
Custom Interior Graphics: We design, print and install vibrant graphics on every imaginable surface at your office, storefront or facility that will take your brand to the next level.
Commercial Printing and Mailing Services: For all types of publications and marketing materials.
Graphic Design & Branding: We employ six, very creative graphic designers, proficient in corporate branding and creating unique artwork.
Our Mission: Blessing others by creating quality visual communication solutions, utilizing best production practices and superior customer support.
We Believe: In honoring God, uplifting our families, supporting our country and investing in a bright tomorrow for the next generation.
We specialize in custom interior signs, lobby signs, wall wraps, custom banners and more. We excel at signage design, production and installation of full color business signs. We guarantee to color match your company colors!
Customer Review via Google+
Like to thank James Zambrano and his team at Heritage Printing for the outstanding service and creative ideas they offered to make our event space at the Marriott City Center stand out! The custom window graphics and large format signage looked amazing, and without your suggestions on materials and installation, we wouldn't have been successful implementing our client's vision without Heritage, one of the best sign companies in Charlotte. Thanks again James, look forward to working with you again soon! Jeff Campese - Creative Director, Red Rocket Studios
Read More...