Acrylic plastic costs much less than glass and is more durable!
Acrylic Signs Charlotte
Click here for our acrylic signs FAQ
Acrylic is the perfect substitute for glass signage, it's more durable, cost effective and is extremely versatile. Acrylic office signs are preferred because of the professional appeal they represent. Beautiful and completely customizable, a contour cut, 3-Dimensional, stand-off lobby sign always makes that good first impression!
SUBSTRATE
Acrylic is a Plexiglas material that is available in numerous full color boards. We custom print and cut 4' x 8' boards in thicknesses from 1/8" to 1" (in ¼" increments).
Plastic signs are durable enough to use indoors or out. Outdoor use tends to shorten the lifespan due to damage from the sun and elements.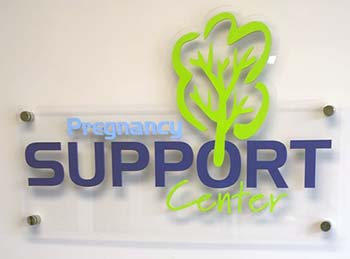 DESIGN
Our creative arts department can replicate your brand, design a "new look" using your brand or create an original brand for your acrylic wall signs. There is never an art issue when we design, and your files will always be securely saved for future use.
Our manufacturing process includes a variety of custom options, including standoff, double standoff, 3-D, and a variety of additional substrates (like wood) to accent the acrylic. Our design team can upfit your custom office signage with any or all of these options.
PRINT
We DIP (direct image print) with Eco-friendly, UV inks to the acrylic for the immaculate look that adhesive vinyl can never provide. Brands and logos come alive on an acrylic substrate, and we guarantee to match any company color, using the provided Pantone color code.
Standard printing is DIP to the front of the sign, second surface is printing on the backside of the substrate, we easily offer both. The advantage of second surface printing on clear acrylic is the image is protected, it provides a deep, "rich" ambiance that standard can't offer. We never charge extra for second surface printing of any acrylic signage.
---
Acrylic Signs Gallery
---
CUT
Acrylic can be custom cut acrylic letters to almost any font, or image. We can laser cut fonts/images as small as ¾" to precise dimensions. Our CNC router empowers our team to manufacture acrylic displays up to 1" thick for an extremely durable custom acrylic signs. We use digital technology to exact cut to the specifications of the proof you approve. Digital manufacturing eliminates mistakes.
Etching options provide the ability to incorporate complex images, in fine detail that routing is unable to provide. Etching is excellent for creating custom made trophies.
Drilled holes for mounting is incorporated into the design. Custom hole placement available for easy and effective customization. Holes for LED lighting wires and back-lighting are examples of custom drilling.
OPTIONS
Custom acrylic mounted to wood is very popular, custom finished wood or rustic, antique planks provide additional depth and an eclectic appearance.
We use LED lighting to highlight, backlit or project subtle light on the acrylic. Multi-colored lighting available, with remote control and a variety of strobe-like choices.
Multi-layered acrylic (3-D) with a choice of colors, also highlight the sign and incorporates a "remembrance" that traditional flat signs can't replicate.
Standoffs available in polished and brushed aluminum, brass, clear and "hidden" with several sizes to select from.
GLASS
The advantages of acrylic over glass are substantial. Cost is always the number one factor, glass typically costs 4 times more than acrylic. It is half the weight of glass and 17 times more impact resistant.
INSTALLATION
Clear acrylic signs can be scratched and chipped or broken, if dropped, therefore we always recommend our professional installation services. In the unlikely event your sign is broken during our professional install, we will replace it free of charge. We provide a 30-day warranty for our acrylic signage installation. If it falls, we will re-install, if it breaks we will replace it.
If you choose to self-install, we provide cardboard templates to assist in the mounting process.
Customer Review via Google+
Our rep Dominique has been really helpful going above and beyond to get us the right products on time. Heritage will provide art templates upon request, which enabled me to get the art right on the first try. Highly recommend. Kerstin Diehn
Read More Reviews...