Window business decals & window graphics, professionally printed & installed, we specialize in window decal printing!
Window Graphics Charlotte
Custom window decals are 24/7/365 advertising, capture the attention of prospective customers with window graphics. Window signage has long held the advantage over digital oriented ads, because they are real, with a real product behind them.
STOREFRONTS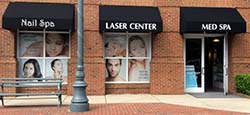 Restaurant window graphics can offer much more than hours of operation, window decals custom printed with branding and marketing messages entice more patrons. Window perf provide one-way vision, excellent for storefronts. Window images and lettering for business have never been easier, we help by providing a custom vinyl window decal to encourage walk-in foot traffic.
VINYL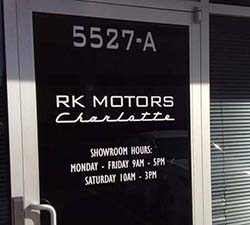 We make large and small business window signs, from our vinyl supplier Veritiv, which offers numerous grades of vinyl, we are not confined to, but primarily use:
Avery 2903 – good for full coverage vinyl window wraps for business, it has an air release backing allowing trapped air to escape, thus leaving no air pockets.
Avery 3320 – good for business window decals, window lettering for business and window lettering decals.
DuraVinyl 305 – used for custom window signs needing sun block, 305 has a block out backing.
DAF Illusion – perforated vinyl used for one-way vision.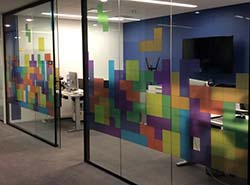 Our custom window signs are made for long lasting adhesion, while also being removable. Window clings are made with a minimal tack for easy removal.
INTERIORS
Business window graphics include interior glass, vinyl frosting of conference room, glass walls provides privacy and a corporate atmosphere. Custom window imagery have no limitations, we have printed and installed large window graphics, window business signs and vinyl window decals for business since 2004.
---
Windows Gallery
---
GRAPHIC DESIGN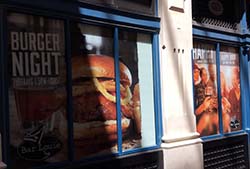 We employ seven full-time graphic designers on staff. We help create window decal using your brand and company colors. When seeking original designs, our Creative Services department can brainstorm ideas and develop unique imagery to suit your needs.
INSTALLATION
We employ over 15 professional, full-time installers, for projects within driving range of our production facilities in Charlotte, NC and Waldorf, MD. Our network of expert installation crews spans the nation, we can print and install across the United States. Average turn times are 1 to 2 weeks after contacting us, with installation times averaging 1 – 2 hours on site.
VEHICLES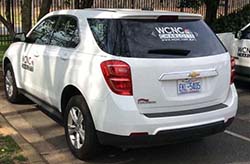 Car graphics can be printed and installed for temporary, one-time use or for a long-term application. Custom window lettering need not be just storefronts, car graphics often include URL's, phone number and address. Truck graphics can be "see-through" using the company branding.
Our business window signs are NOT PAINT, we only custom print and install vinyl. We offer color matching to any companies provided Pantone color code.
Customer Review via Google+
I worked with James to complete a project for my company, and he was so helpful and attentive that we were able to turn the project around in less than a week! The quality of the finished product was far superior to anything we could have received from other vendors, and their customer service and attention to detail cannot be beat! We will absolutely be using their services again in the future! Samantha Rosenfeld
Read More Reviews...