Meter Boards are seen at most event venues as directional and informative signage
Meter Boards Charlotte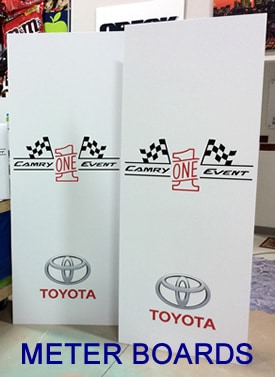 Meter boards are custom printed, stand-alone signage used to draw attention to products, events and provide directions.
They are reusable, portable and affordable.
Dry erase meter boards available!
Charlotte retail stores contact Heritage Printing for affordable, durable and reusable signage. Our signs are perfect for advertising a special, promoting new products or announcing available services to the store patrons. Meter boards make excellent P.O.P. signs too! (point of purchase)
The restaurants in Charlotte have their creative staff draw lunch special images and new menu items on Laminated Dry Erase Boards. The customers can easily see the daily food and drink specials, in a highlighted style, to encourage additional purchases.
We primarily use DIP (Direct Image Printing) to embed the ink directly into a ridged substrate. This method eliminates laminating, increases durability and lowers the cost of the sign.
Dry Erase Signs are not DIP, they are printed on vinyl then laminated to a substrate, this creates a surface that is write-able and erasable.
Substrates
½" Gator Board
Foam Core
Plywood
PVC
---
Gallery
---
Charlotte event venues can be overwhelming to new visitors. Directional meter boards help event vendors and attendees find their way and are beneficial for announcing event seminars and workshops.
Meter boards from Heritage Printing are portable,
durable and are can be printed for reuse.
Hotel meter boards help guests find their room, meeting room or the hotel restaurant. Larger Charlotte hotels use meter boards to provide a layout of the building to enable guests to easily navigate the premises.
Meter Board Usages:
Book Displays
Countertop Displays
Directional Signs
Dry Erase Menus
Event Signs
Hotel Signage
P.O.P. Advertising
Small Merchandise Displays
Our Creative Services team can help design your meter board. The Heritage Process of customer service is unmatched in the sign industry.
Customer Review via Google+
The team at Heritage Printing & Graphics met and exceeding my expectations. I inquired about a last minute project that was small compared to their normal projects and the sense of priority I felt with Steve and Joe made me feel like my project was in the best of hands no matter how small or big it was. Their quality of work is exactly what we were trying to portray in our marketing materials for our company. Their team came in early and stayed late to make sure that this project was Class A and exactly what I was looking for. The final product was top quality and again, exceeded expectations. When working with a company like Heritage Printing you can tell they take extreme pride in their work which makes me, as the customer, know that my materials are in good hands. I will definitely use Heritage Printing for future projects as I am just thrilled with the quality of work and customer interaction they bring to the table. Jennifer Harrell
Read More...
Visit us at 2739 Interstate St.
(between Billy Graham Parkway & Freedom Dr.)
(Google map)