Gaston College Project Spotlight
Monday, September 12, 2022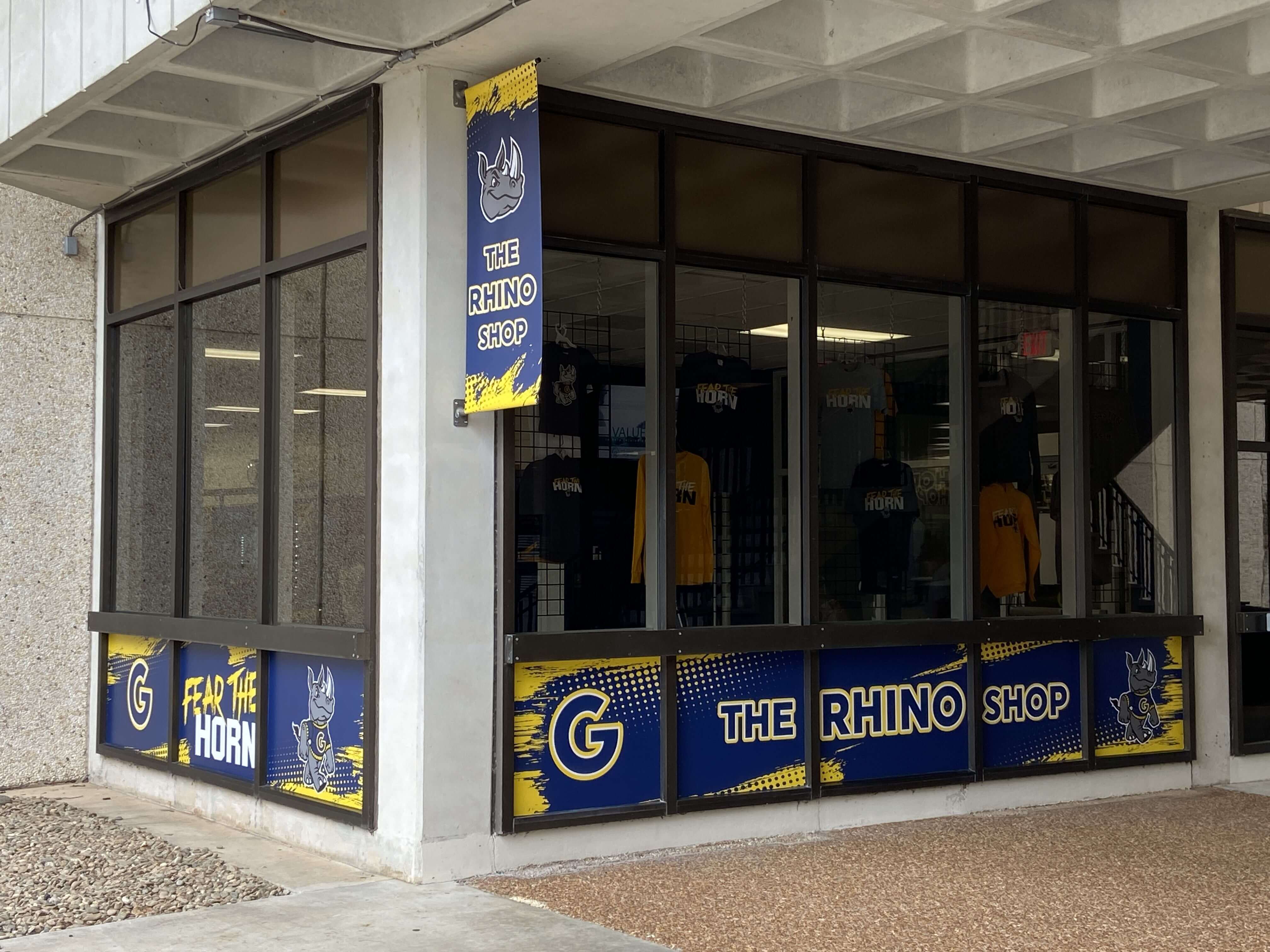 Heritage Printing, Signs & Displays recently installed new storefront signs, wall wraps, and window graphics at the Gaston College student store known as the Rhino Shop, located on their main campus in Dallas, NC.
Gaston College contacted the team of custom sign experts at Heritage Printing, Signs & Displays to provide new storefront signs, wall wraps, and window graphics for the Rhino Shop, the student store on Gaston College's Dallas Campus. Gaston College sought the services of the Heritage team due to their decades of experience branding educational facilities with interior graphics and custom signs. Heritage was more than happy to put their expertise to good use for the benefit of a leading local educational facility.
Rebranding the Rhino Shop required materials that would be suitable for the job and enduring sunlight and outdoor weather conditions over time. The adhesive vinyl graphics that ultimately comprised the Rhino Shop's new storefront graphics were printed at Heritage Printing, Signs & Displays' production facility in Charlotte, NC, using a wide format printer. The window graphics were created from 3M 40C adhesive final that was latex printed, matte laminated, and rectangularly fit to the left and right windows of the Rhino Shop. In addition, a pole banner was UV printed and rectangle cut with pole pockets on the top and bottom for hanging adjacent to the Rhino Shop entryway.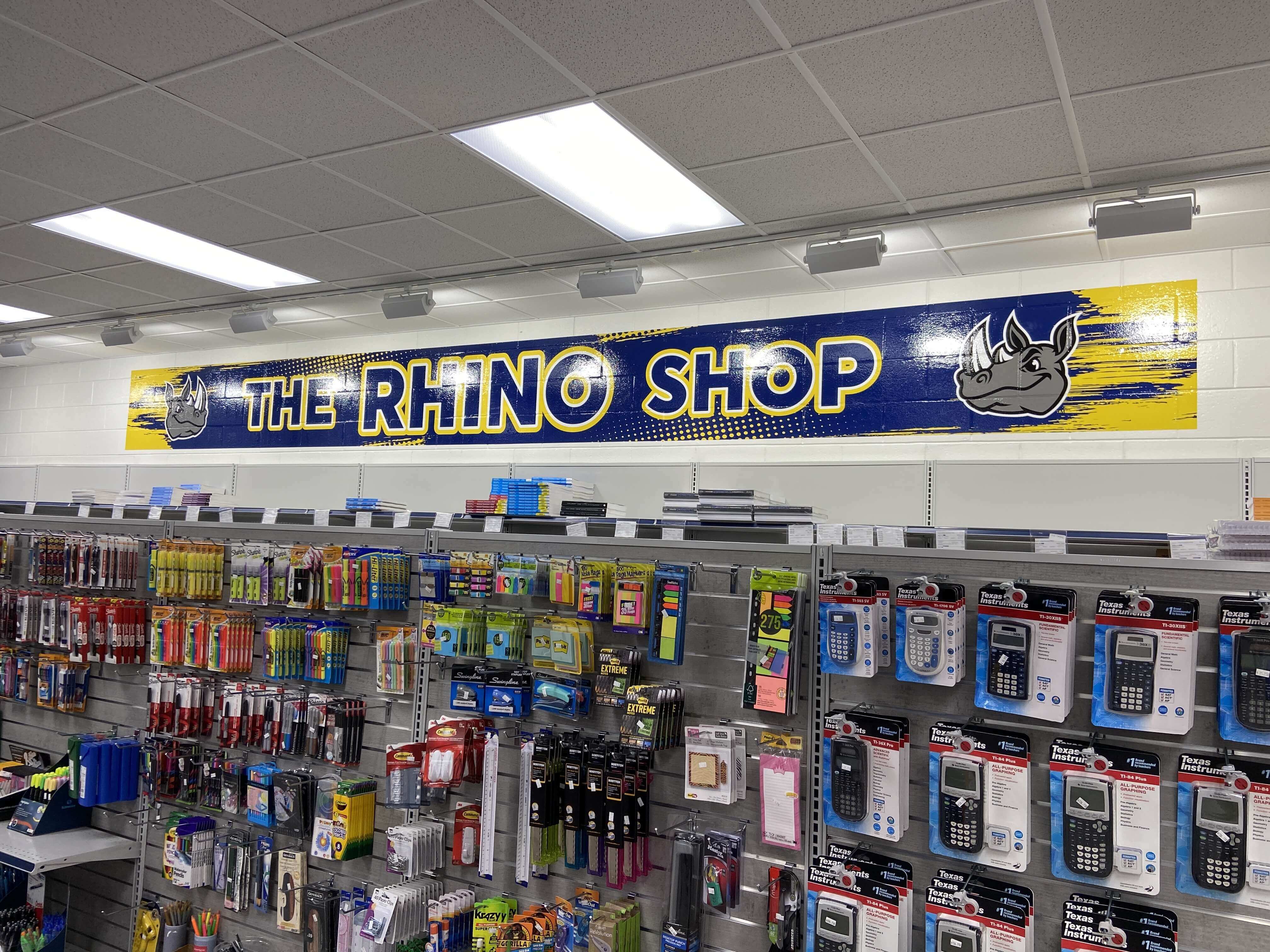 Inside of the Rhino Shop's interior, the main checkout desk and the rear wall were outfitted with interior graphics as well. The checkout desk had latex printed vinyl adhered to the desk's service. The vinyl was laminated, and rectangle cut, as was the Duravinyl graphics that were installed to the Rhino Shop's rear wall. The intention was to reflect Gaston College's trademark rhino mascot and campus colors while also adding life and personality to the student store's interior with eye-catching, high-quality point of purchase displays.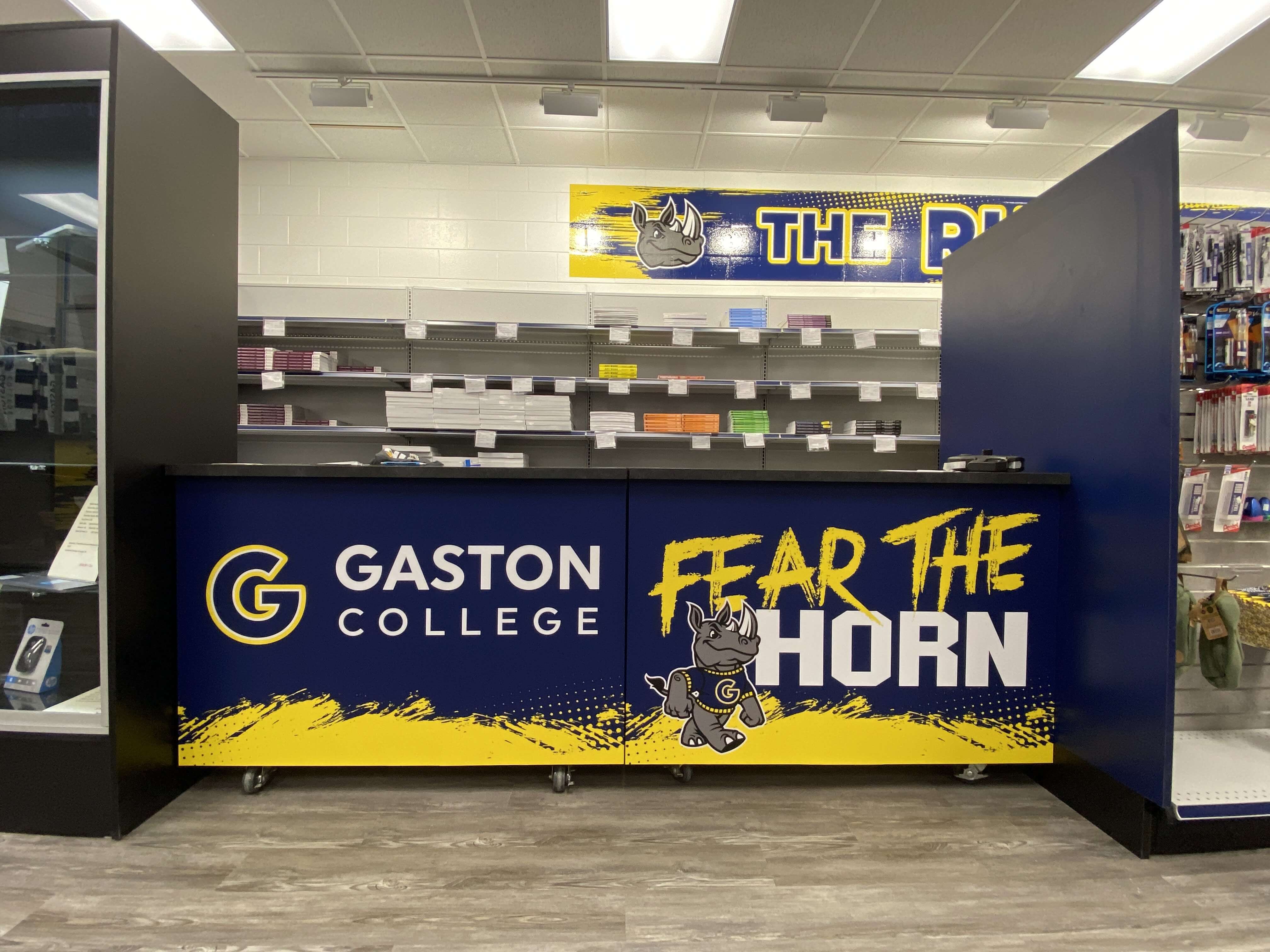 The Heritage team arrived and efficiently installed the interior and exterior graphics. Upon completing the installation, the staff at Gaston College were thrilled with the results of the team's work. Gaston College continues to be a thriving educational community with expanding campuses and buildings. The staff is eager to pursue additional facility branding and interior graphics project opportunities with Heritage Printing, Signs & Displays soon.
Founded in 1963, Gaston College has grown into one of the largest community colleges in North Carolina. From humble beginnings, Gaston College presently boasts three campuses – Dallas, Kimbrell, and Lincoln, serving students in Gaston County and Lincoln County. Since 2000, the Dallas Campus has expanded with five buildings, and with additional expansions under construction at the Kimbrell Campus in Belmont, North Carolina in the years to follow. Gaston College's mission has been to encourage a spirit of lifelong learning in students, with a special emphasis on training students for careers in the textile industry at the North Carolina Textile Technology Center at the Kimbrell Campus.
Heritage Printing, Signs & Displays Produces Award-Winning Signage for Businesses in Charlotte, NC
Heritage Printing, Signs & Displays is a local, veteran-owned sign company serving Washington, DC, Baltimore, Maryland, and Charlotte, NC. Heritage is known for quality project management and customer service in support of clients' commercial interior graphics, event signage, retail point of purchase displays, commercial printing, and direct mail.
To inquire about a project for your business, call Heritage Printing, Signs & Displays at (704) 551-0700 or use our convenient online form to Get A Quote today.
#commercialinteriorgraphics, #eventsignage, #retailpointofpurchasedisplay, #commercialprinting, #direct mail