Atrium Health & Carolina Panthers: Project Spotlight
Saturday, December 24, 2022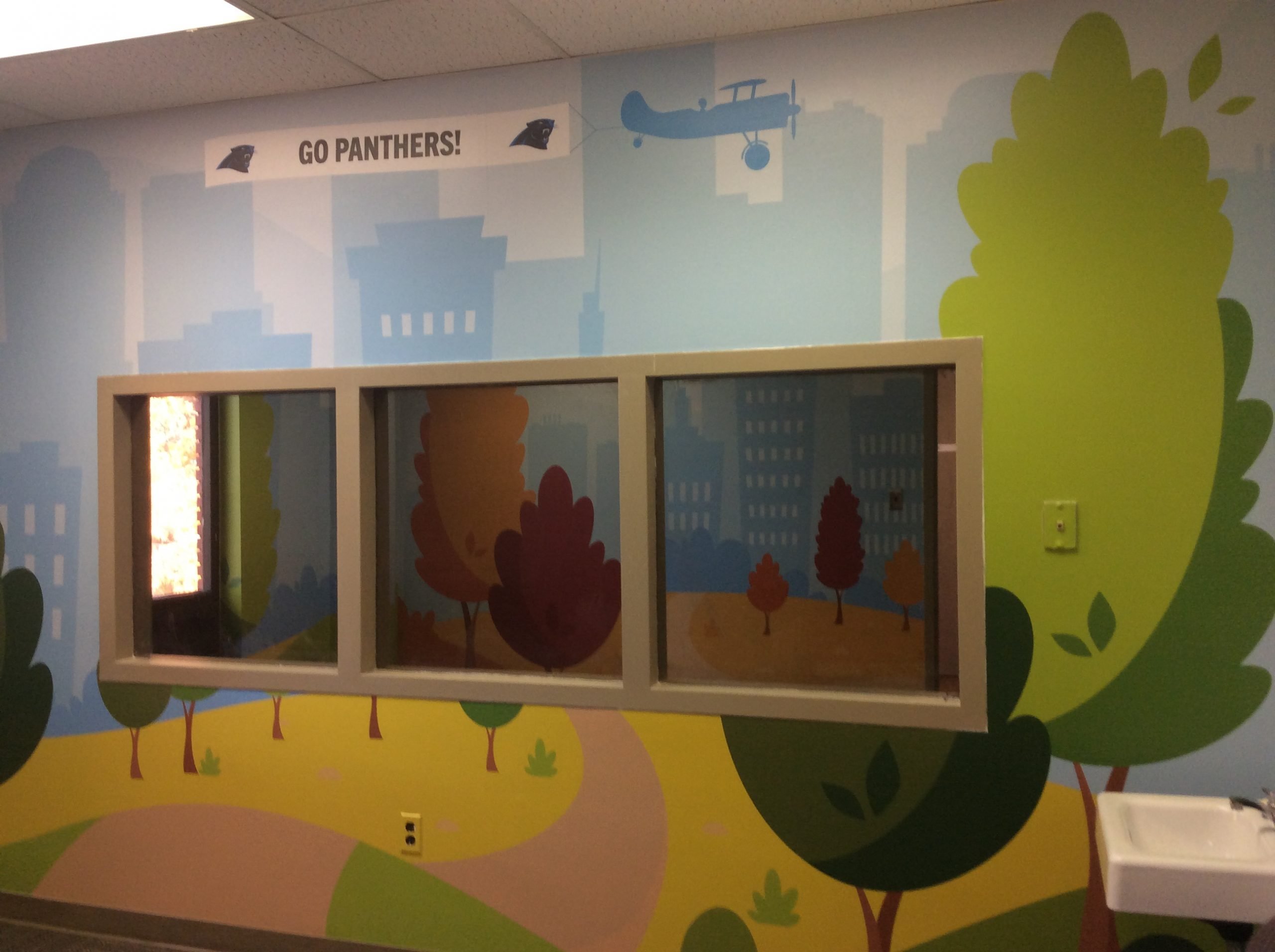 Atrium Health and Carolina Panthers: A Partnership of Therapy Through Play
In March 2022, Atrium Health partnered with the Carolina Panthers to revitalize a play therapy room in the Atrium Health Behavioral Health Charlotte facility with updated wall wraps. Representatives from Atrium Health reached out to Heritage, Printing, Signs & Displays to carry out the branding of the space to encourage positive mental health and emotional recovery in children.
A Friendly Interior Space Ideal for Emotional Wellness
The play therapy room is equipped with durable toys that are easy to clean and designed to encourage the spirit of play and recovery for Charlotte area pediatric patients. The grant provided by the Carolina Panthers allowed for this amazing endeavor between two of the Queen City's most impactful organizations.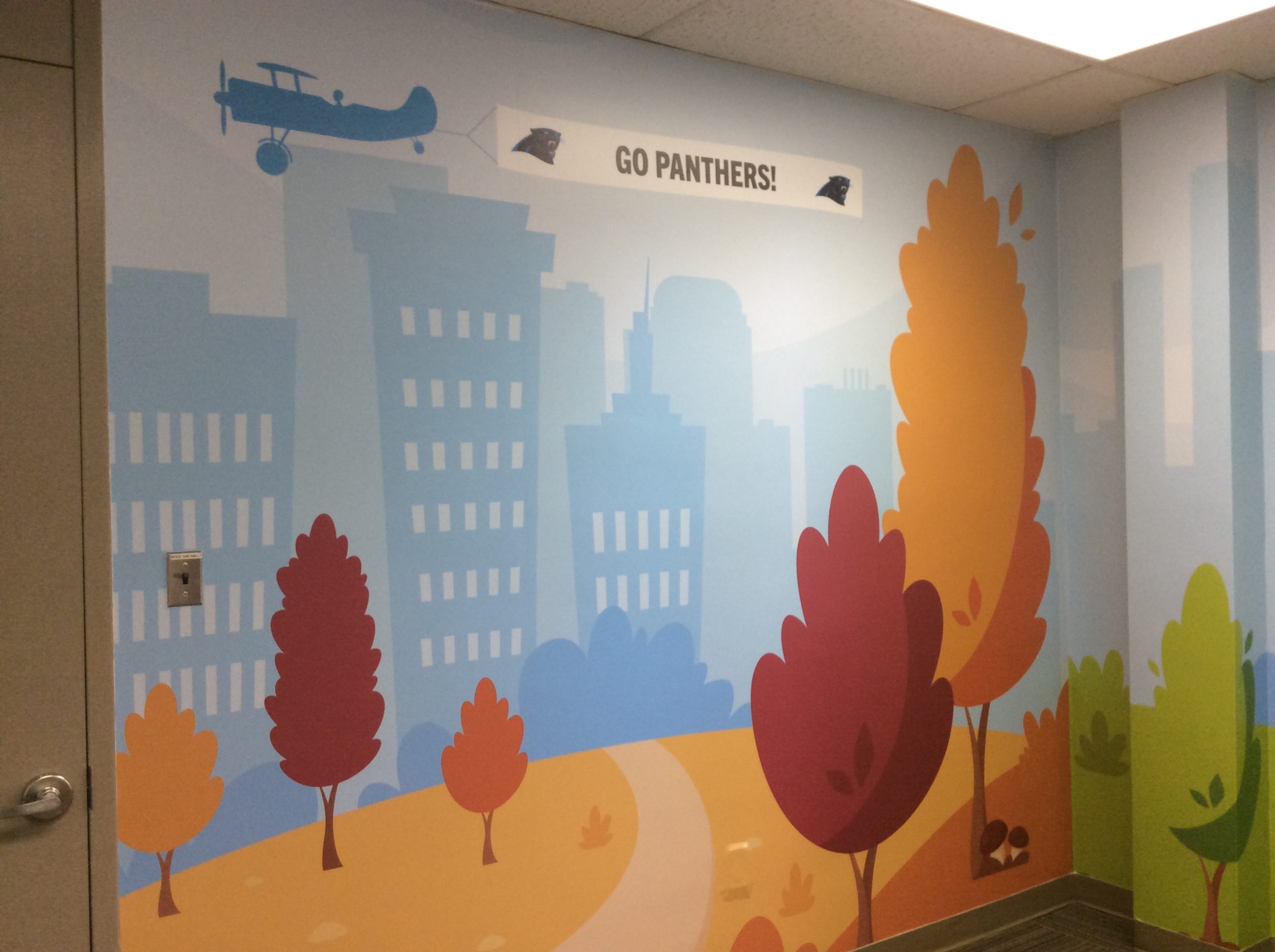 The collaboration process between Heritage and Atrium Health involved several key aspects, the most important, creating a friendly interior space that is an ideal environment for positive emotional recovery for children. Specifically, this endeavor involved updating the Children's Playroom at Atrium Health Behavioral Health Charlotte with artwork created by Varsity Partners that will encourage a friendly atmosphere. The Heritage team was tasked with implementing the artwork by recommending and using the proper materials and employing our leading production process and installation techniques.
A Room of Restoration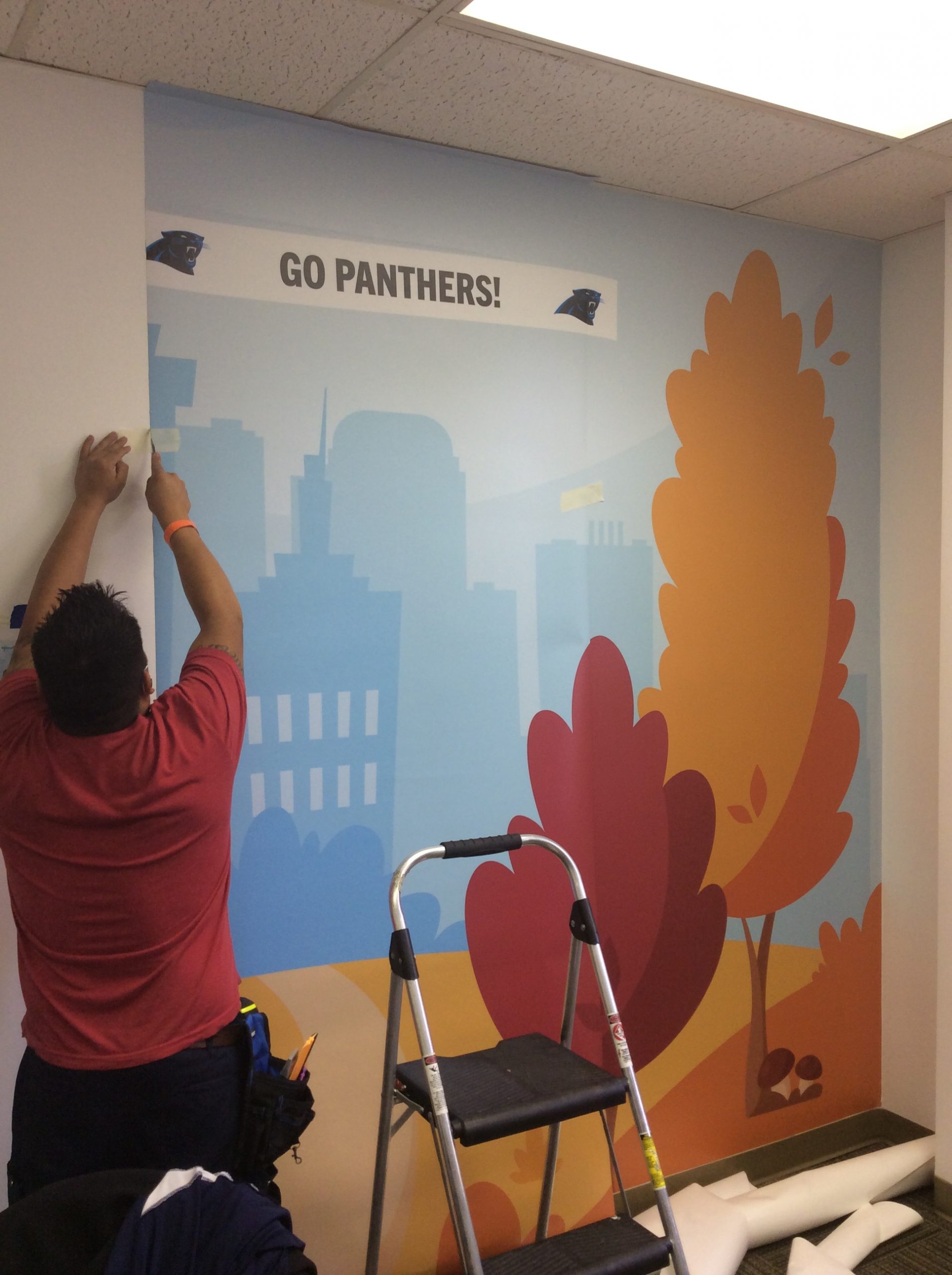 On the day of the installation, the Heritage installation team undertook the branding of the play therapy room using wall wraps to adhere the Varsity Partners artwork to the walls. All four walls were wrapped with a continuous design using 3M vinyl and laminate. These materials allowed for the artwork to be easily cleaned and securely attached to the walls of the space with minimal risk of peeling or fading over time. The result was a soothing space designed to encourage positive emotional recuperation in children and highlight Atrium Health's partnership with the Carolina Panthers that made it possible. Upon completion, our collaborators at Atrium Health were very pleased with the results and the beneficial impact they will have on recuperating children in the Charlotte community.
About Atrium Health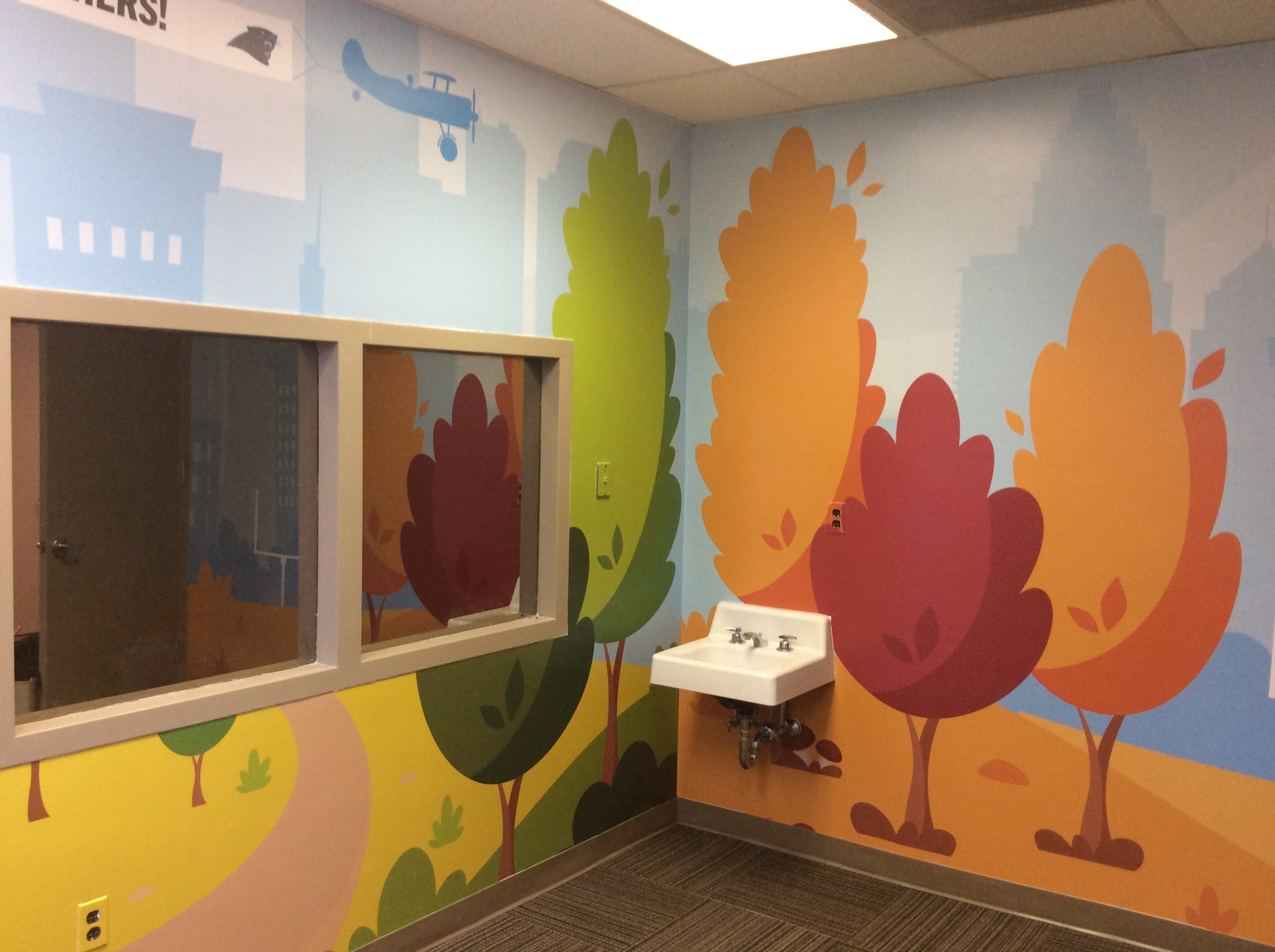 Atrium Health, formerly known as Carolinas HealthCare System, is a network of hospitals proudly serving the Southeast, including the states of North Carolina, South Carolina, Georgia, and Alabama. As a network of hospitals employing over 70,000 employees with over 1,400 locations, it is the largest employer in Charlotte, NC and a leading provider of healthcare for adults and children in numerous fields of medicine and pediatrics.
About Us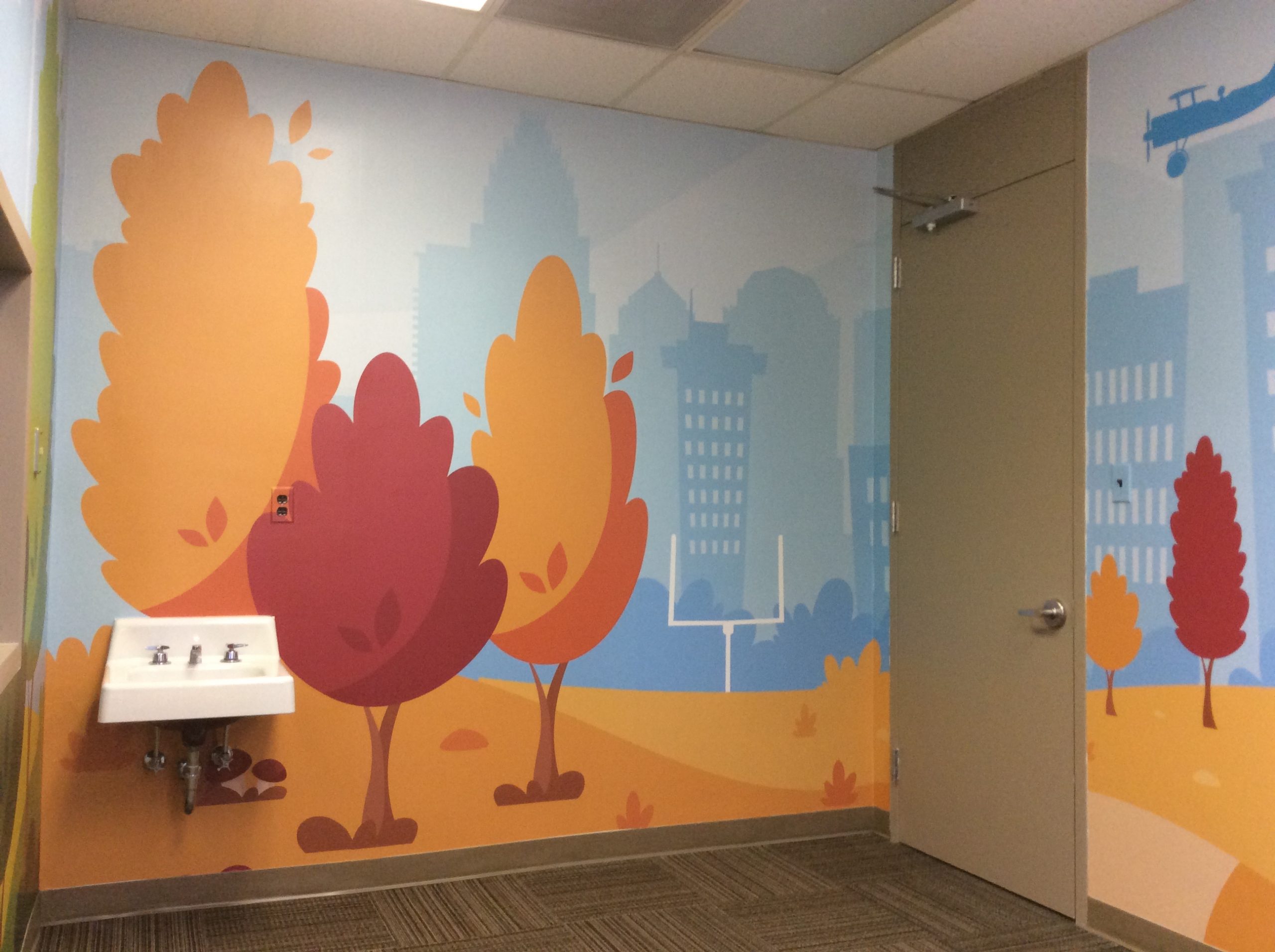 Heritage Printing, Signs & Displays is the leading sign shop in Charlotte, NC. Our talented team of commercial printing professionals specializes in trade show displays, custom signs, and commercial interior graphics that enhance spaces, promote brands, and captivates target customers. If your company seeks to create new, high-quality displays from the award-winning sign company in the Charlotte area, call our sign professionals at (704) 551-0700. Or if you want to Get a Quote for free, use our convenient form today!
#commercialprinting, #tradeshowdisplays, #customsigns, #commercialinteriorgraphics, #displays