What is a Lenticular Wall Display?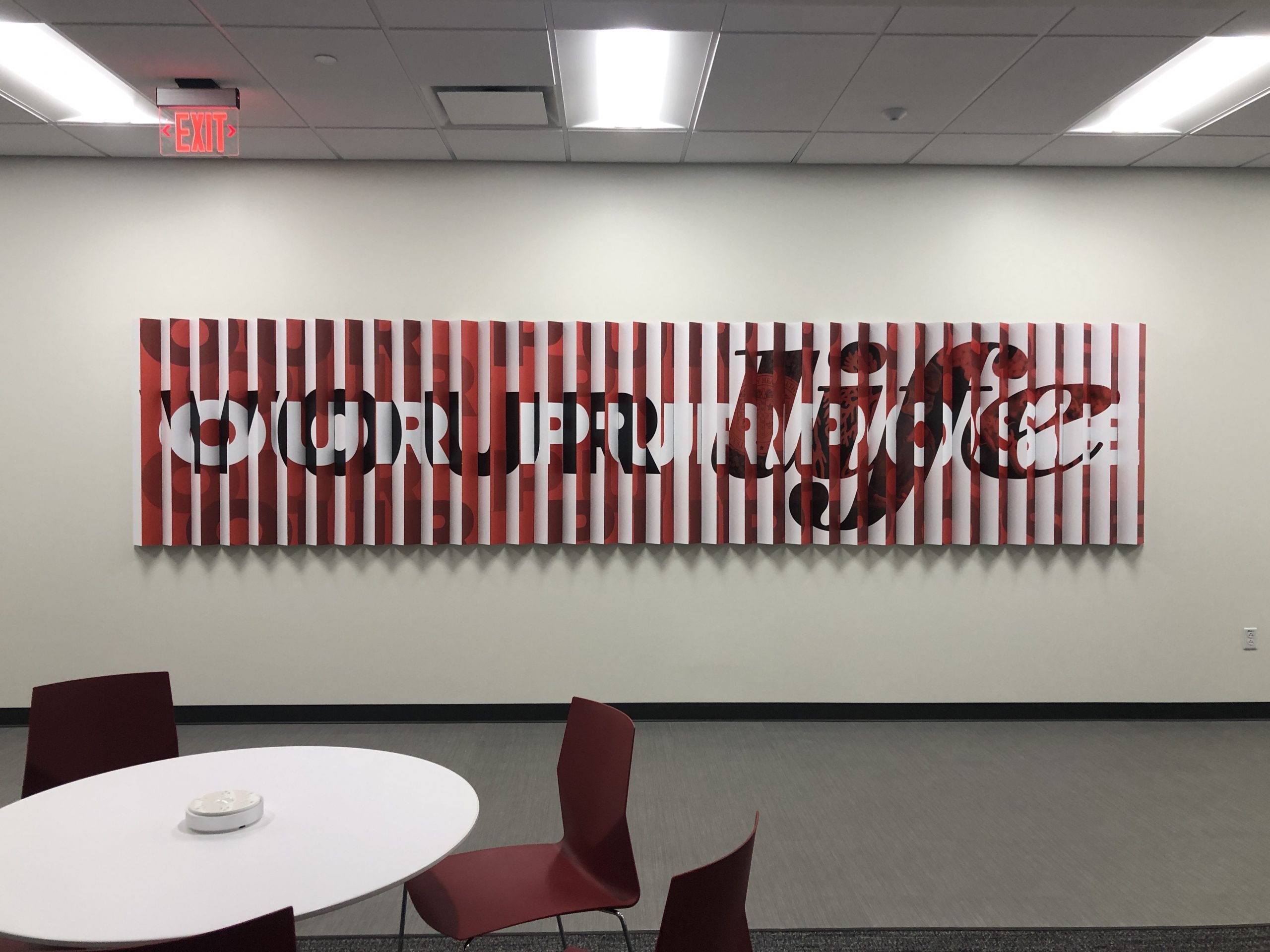 Lenticular Graphics: A Legacy of Turning Pictures
Few things are as fascinating in a public space as signage that changes as you move past it. While signage usually communicates one brand, image, or message at a time, a lenticular wall display is designed to communicate two. The ability of lenticular signs to give the illusion of changing as observers move allows for all who see the sign to not only engage with the message but to be captivated by the experience of seeing it.
A lenticular wall display is a custom sign fabrication utilizing a concept that has origins as far back as the 16th century when they were referred to as "tabula scalata" or "turning pictures." Now in the 21st century, the basic principle of lenticular displays remains the same. It is comprised of two images that are separated into vertical strips and applied to a corrugated substrate. This allows for the wall display to show two entirely different images from different viewing angles.
How Lenticular Wall Displays Work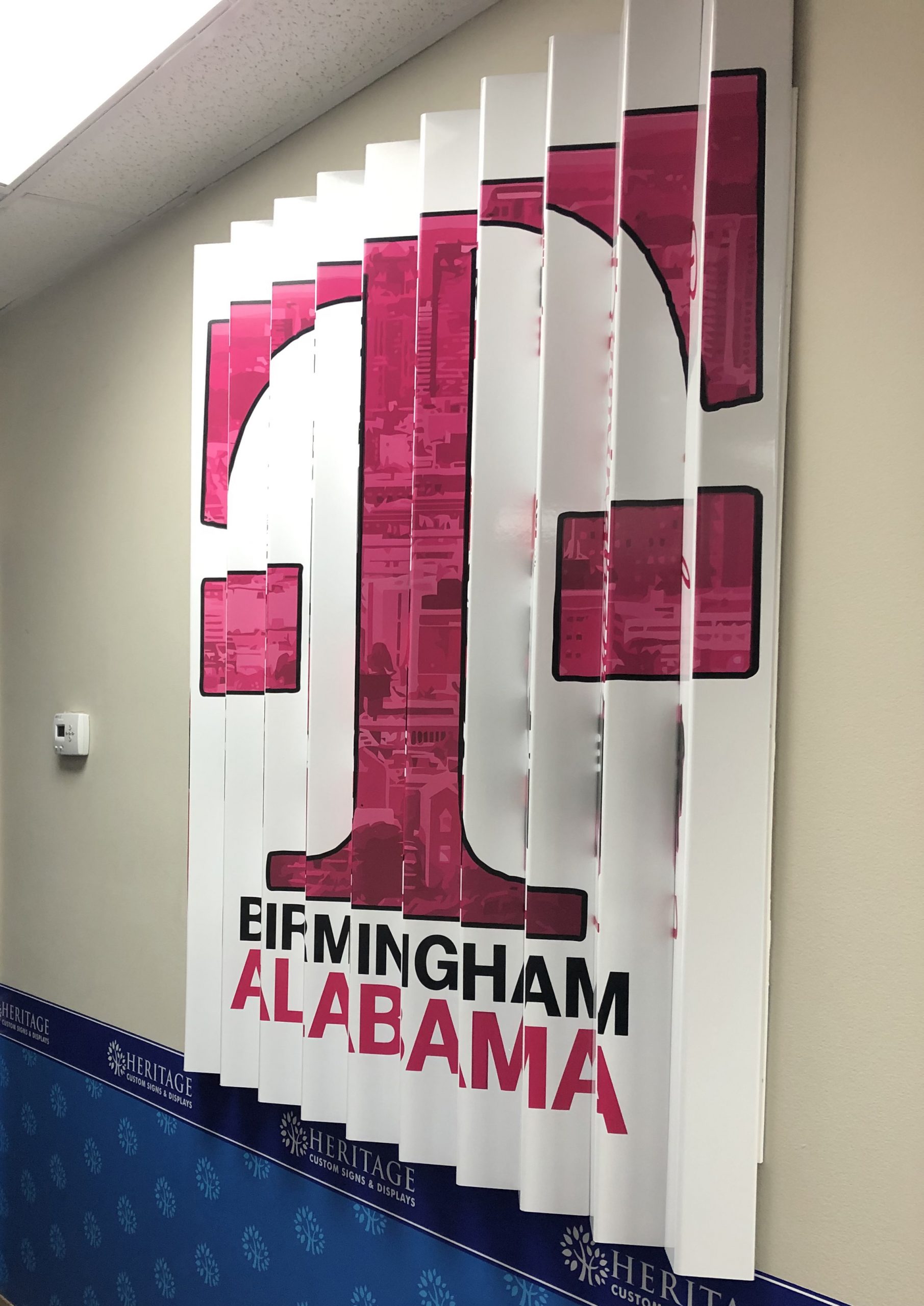 Lenticular wall displays are typically oriented vertically to allow for the image to change as pedestrians walk past them. The change between the two images is a gradual change as the viewer moves from one end of the display to the other. Between those two points, observers can see both images at varying degrees, which attracts one's natural curiosity to walk around the display to view both images, thus giving your company's brand more of a chance to be remembered.
Mainly used in advertisements, lenticular wall displays can serve many different purposes, the most notable of which are brands that could benefit from showing dual images on one display. Lenticular graphics can be a unique way to get your brand noticed by pedestrians in high foot traffic areas or in special locations such as sports stadiums or public transit terminals. Used in your corporate space, lenticular wall displays also serve as a unique way to inspire your employees with company objectives, mission statements, or company values.
What Are Lenticular Wall Displays Made Of?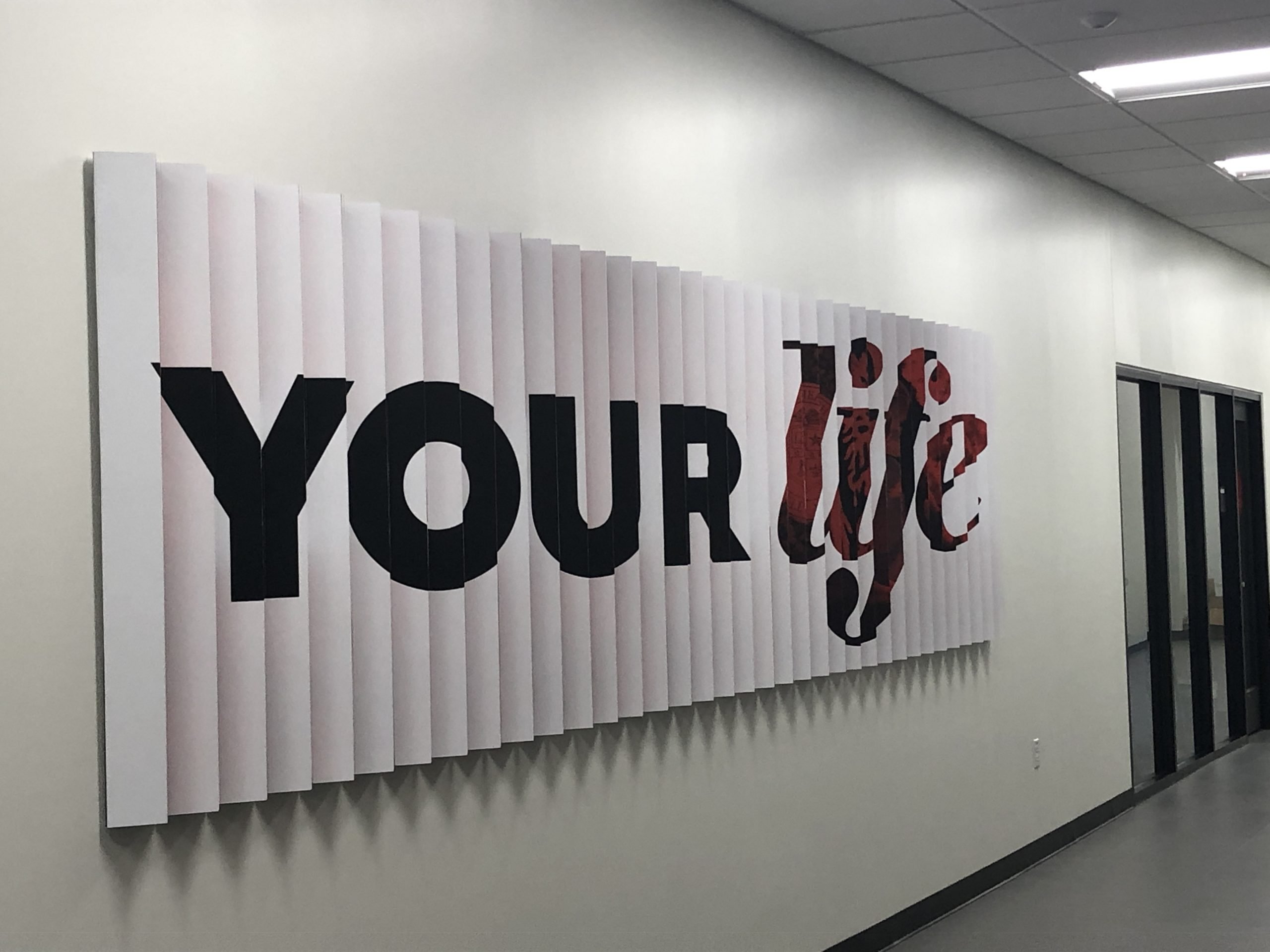 Whatever the goal for lenticular graphics is, there are a plethora of materials that are available to achieve the desired effect. Lenticular wall displays are made of a durable rigid board that is directly printed with UV cured ink and routed to exact measurements for the size and profile of dual image artwork. Sizes for large format lenticular displays can range from 2 ft. x 2 ft. to the size of free-standing walls. People often prefer lenticular wall displays made in the style of the tabula scalata for their 3D look and tactile depth.
With technological advances in the printing industry, lenticular displays can have more than two images. Many of the smaller lenticular prints, like a lenticular tilt card, have multiple images that create the illusion of motion and depth. These types of lenticular displays rely on a special film called a lenticular lens that directs the different images out at precise angles to achieve the illusion effect. However, lenticular lenses aren't usually necessary to achieve the goal.
Heritage Printing, Signs & Displays Is a Leading Provider of Custom Signs in Charlotte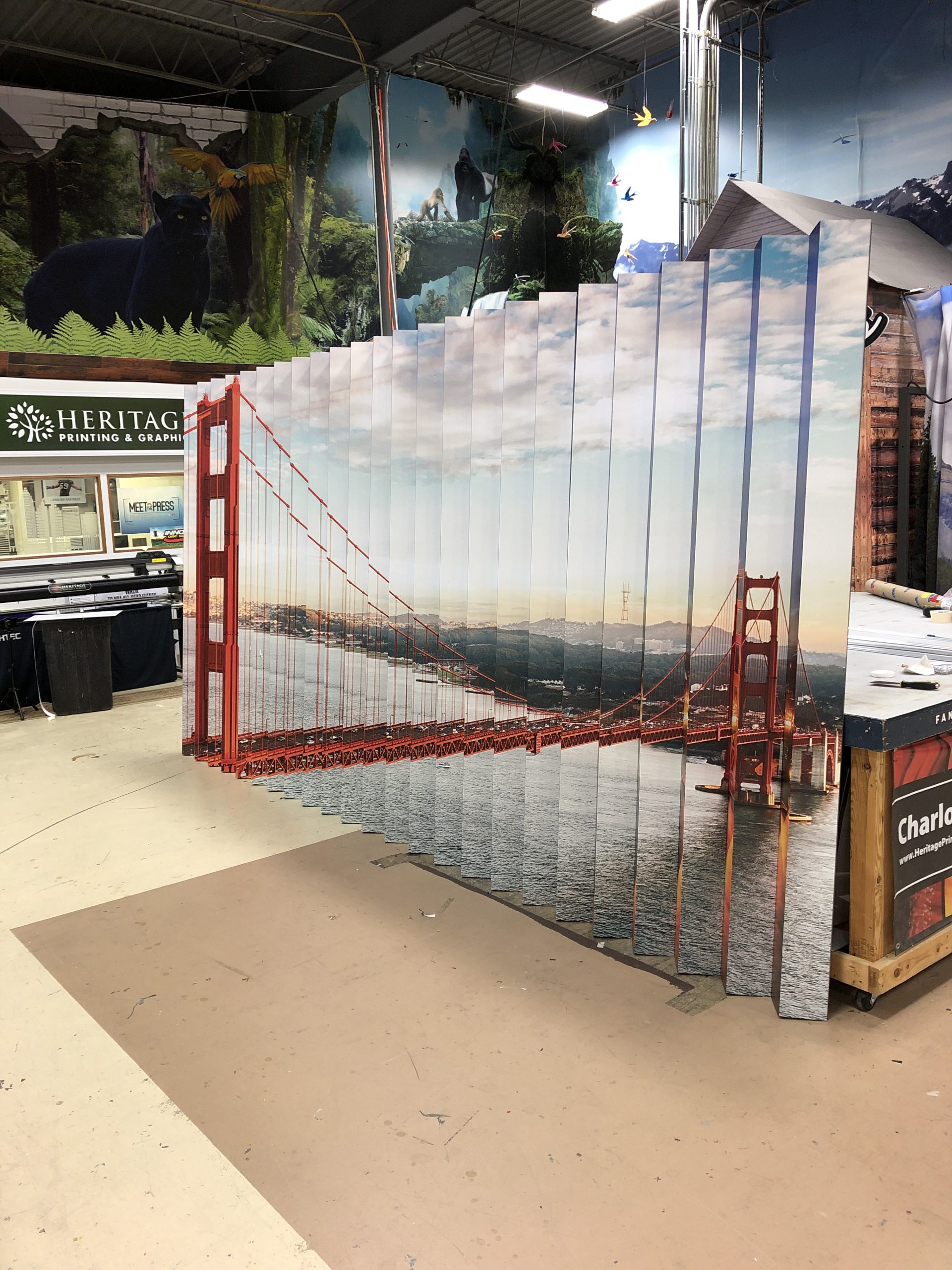 At Heritage Printing, Signs & Displays, our team is committed to making your lenticular wall display or other unique corporate interior signage with only the highest quality materials and in such a way that's uniquely suited to your company or organization. Our team considers factors such as the installation site, environmental conditions, and other variables to ensure that your custom signage is built to last. Above all, we take pride in every job we do, which is why we are overjoyed to have transformed the interiors and enlivened the brands of many satisfied businesses and organizations in Charlotte, NC. Whatever your needs are for your new signage, our goal is to exceed your expectations of what a signage company can provide in terms of quality, timeliness, and customer experience.
An Expert Team to Create Your Lenticular Wall Display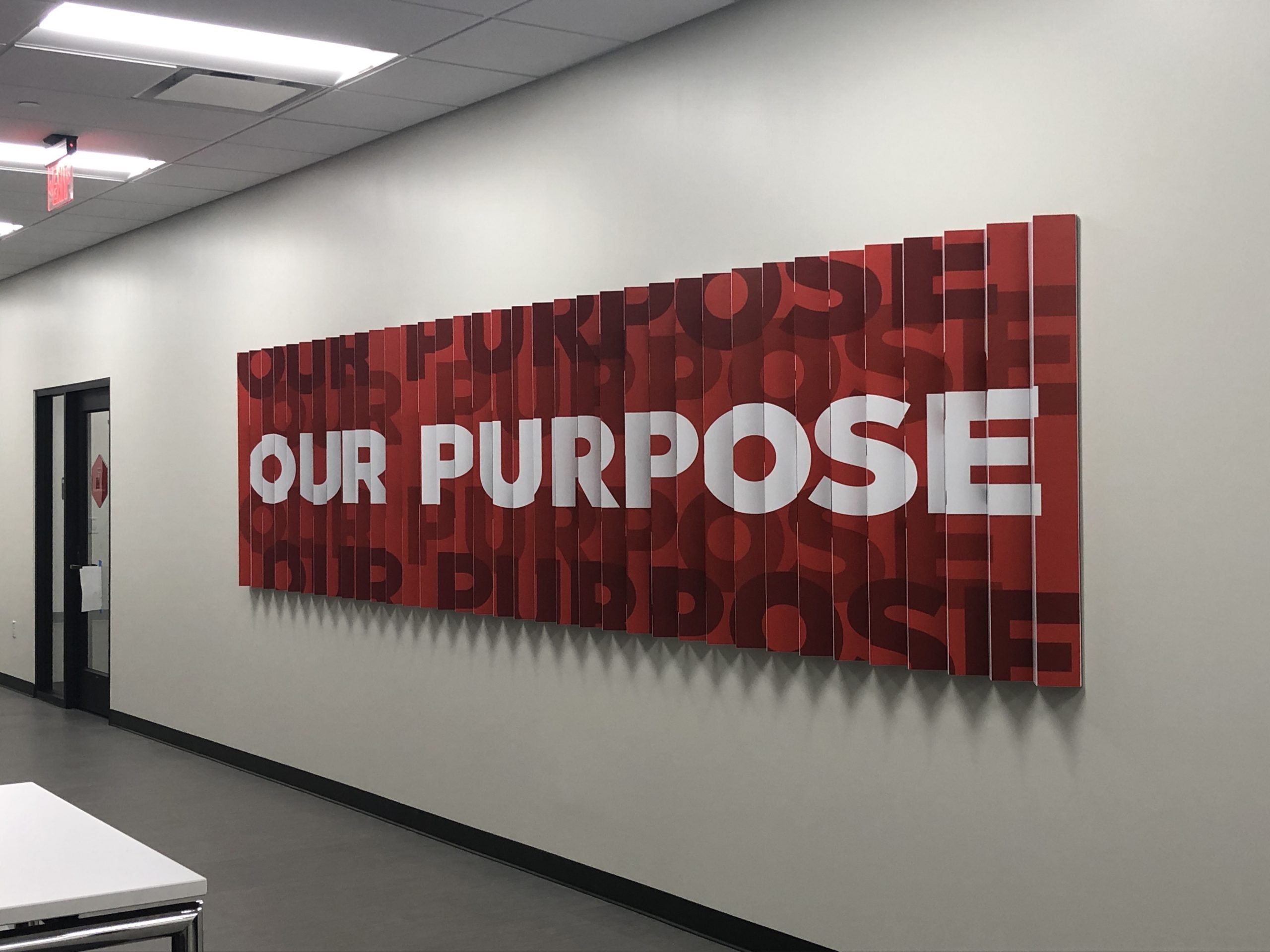 Heritage Printing, Signs & Displays has been providing PICA award-winning lenticular wall displays to clients throughout the Charlotte, NC area. We have perfected the creation of eye-catching and impactful lenticular graphics with the use of our state-of-the-art CNC cutter and high-resolution direct printing. Our computer-aided design process allows our team members to develop the art on both sides of the sign, align the folds and cuts precisely, and achieve a very well-crafted and professional-looking lenticular wall display.
Not only does the team at Heritage Printing, Signs & Displays create lenticular wall displays, but we also install them as well. There are many ways to install a lenticular display and our experienced project managers are happy to help guide you through every part of the process, from the initial consultation through installation. No matter what you have in mind, our artisans are here to bring what you imagined to life.
Reach Out to Us to Create Your New Lenticular Wall Display Today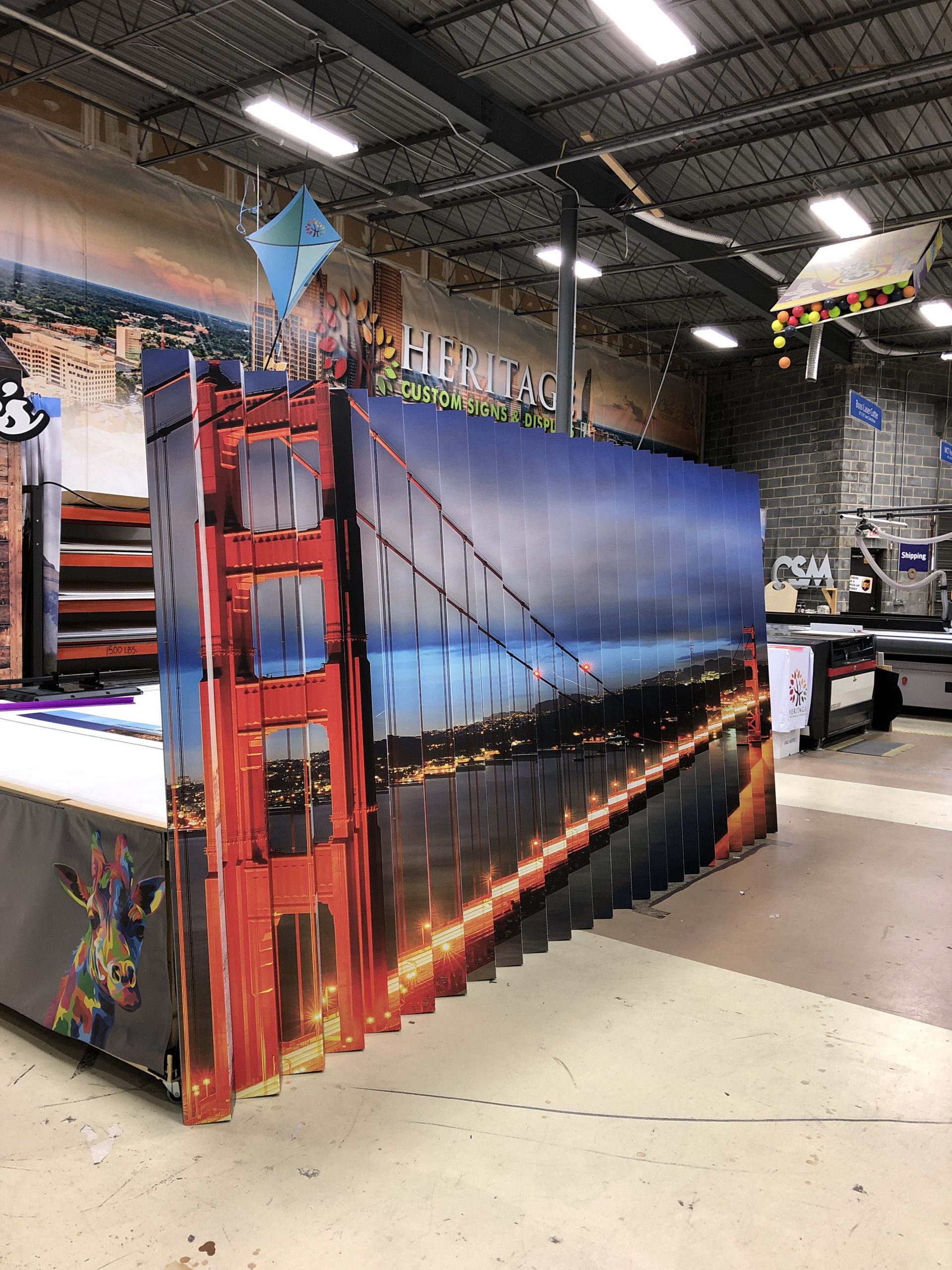 If you're ready to start the creative process of fabricating your own lenticular wall display or have any questions about our products and services, contact Heritage Printing, Signs & Displays today. One of our project managers will work with you every step of the way to create lenticular wall displays or other custom signs that will dazzle your customers and transform your corporate interior space for the better. Give us a call at (704) 551-0700 or Get a Quote using our online form today!
#Lenticular Wall Displays, #Lenticular Graphics