What is a Lenticular Wall Display?
Wednesday, January 20, 2021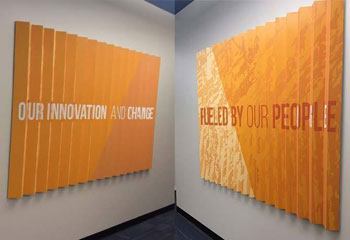 Lenticular Wall Display
A lenticular wall display is a custom sign fabrication utilizing a concept that has origins as far back as the 16th century when they were referred to as "Tabula scalata" or "Turning Pictures". The basic principle remains the same. It is comprised of two images that are separated into typically vertical strips and applied to a corrugated substrate so that it shows two entirely different images from different viewing angles. They are typically vertical to allow for the image to change as you walk by them. With the effect being a gradual change from one image to another as the viewer moves, there are two specific areas from which each image can be optimally viewed. Between those two points you'll see both images at varying degrees, which actually attracts your natural curiosity to walk around the display to find both images.
With technological advances in the printing industry lenticular displays can have more than two images. In fact, many of the smaller lenticular prints, like a "tilt card" you would find in a cracker jacks box, have multiple images that create the illusion of motion and depth. These types of lenticular displays rely on a special film called a lenticular lens that directs the different images out at precise angles to achieve the illusion effect.
In the custom sign industry lenticular lenses aren't applied much for a couple reasons, the main being they usually aren't necessary to achieve the goal. Clients often prefer lenticular wall displays made in the style of the tabula scalata for it's 3D look and tactile depth. At Heritage Printing, Signs & Displays Charlotte we've perfected the concept with the use of our state of the art CNC cutter and high resolution direct printing. With our computer aided design we can develop the art, precisely align the folds and cuts to achieve a very well crafted and awesome looking lenticular wall display.
Mainly used in advertisements, they can serve many different purposes that could benefit from showing dual images on one display. This can be anything from a unique way to inspire your employees to getting a double take on your advertisement in a high foot traffic area. If the solution to your visual needs is a lenticular wall display then Heritage Printing, Signs & Displays Charlotte is the best resource at your disposal.
Nelson, a design, architect and consulting firm, contacted Heritage Printing, Signs & Displays for a unique lenticular wall display for their client. The signage would have "OUR INNOVATION AND CHANGE" from one angle of view and "FUELED BY OUR PEOPLE" by the opposite angle.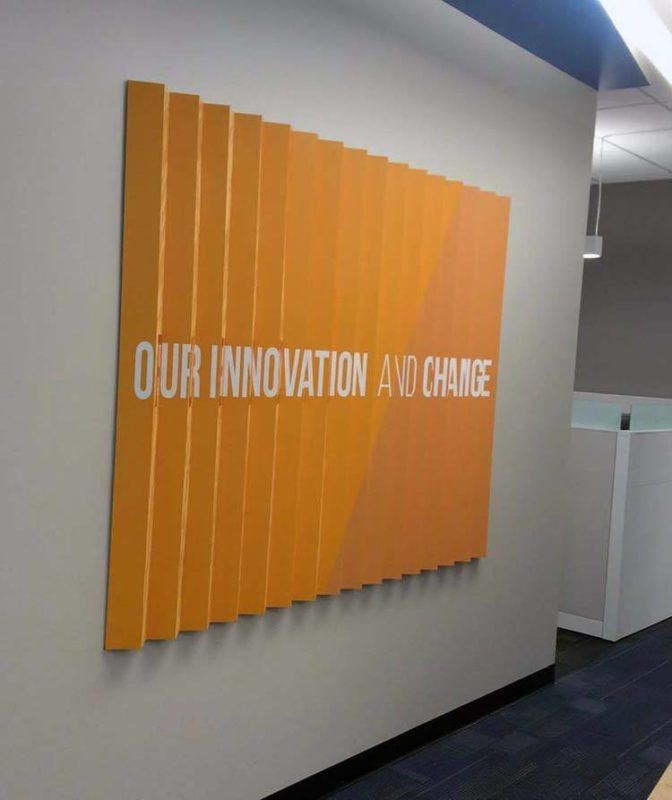 PRODUCT SPECS
Lenticular wall displays are made of a durable rigid board that is direct printed with uv cured ink and routed to exact measurements for the size and profile of your dual image artwork.

Sizes for large format lenticular displays can range from 2ft x 2ft to the size of free standing walls.

To care for a lenticular wall display use a damp non-abrasive cloth to wipe away dust and dirt.

There are many ways to install a lenticular display and to find the best solution for your specific need contact one of our experienced project coordinators who will be glad to help.

When considering a lenticular wall display, be sure to have the distance necessary in both view directions around the intended installation area to properly view both images from their respective optimal view directions.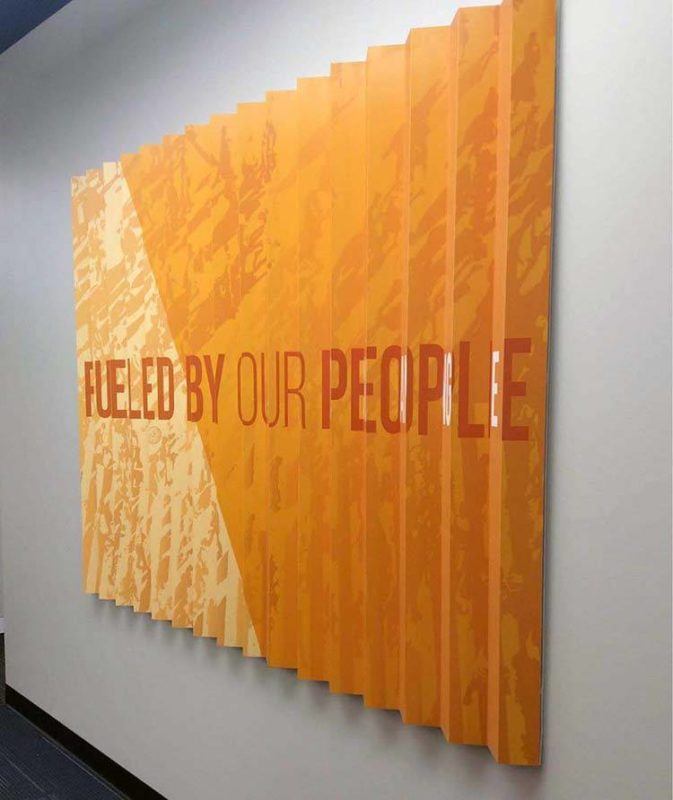 James Zambrano, Project Coordinator & Creative Genius: "Collaboration on the creative direction and fabrication of the custom wall display was both rewarding and inspirational to me personally."
Joe Gass
Heritage Printing, Signs & Displays
A Veteran Owned Company That Seeks To Honor God By Serving Others
2739 Interstate Street, Charlotte NC 28208 (704) 551-0700