Why is it called a Step and Repeat?
Tuesday, February 8, 2022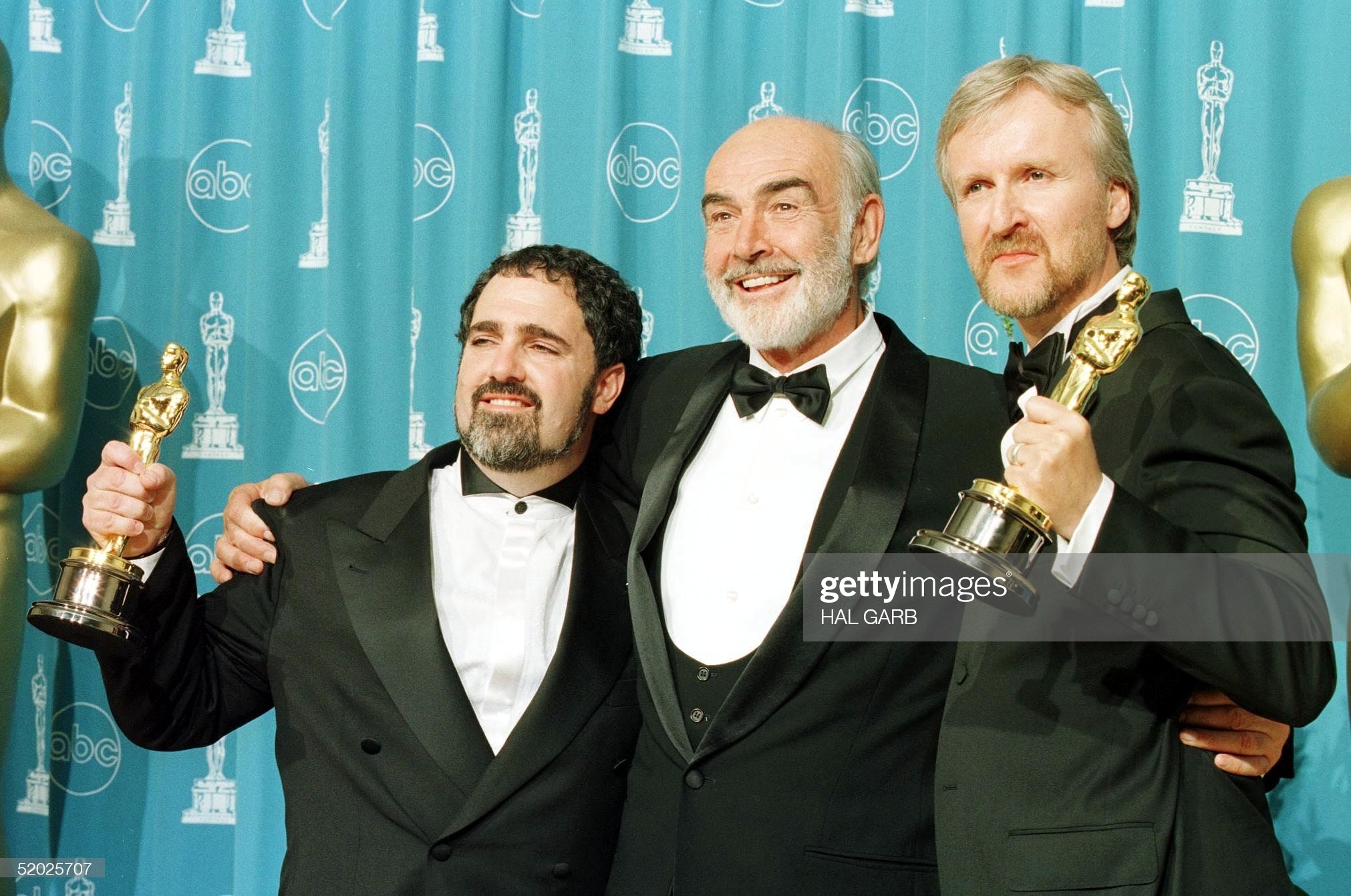 Why is it called a Step and Repeat?
This term has two origins. The first origin starts in Hollywood with the action of stars "Stepping" up to have their photo taken, then stepping down and having the next star "Repeat" the same action for their photo.
The second, is from the technical term "step and repeat" used in the graphic design industry that describes taking a graphic element and repeating it over and over again across a medium. Primarily this was to create copies of a printed item like business cards that could be arranged across a large sheet (like how the logos are repeated across the step and repeat backdrop) for printing and later cut down to the individual card.
Where did Step and Repeat Backdrops come from?
Step and Repeat backdrops have been used for decades, originating in Hollywood as a way to promote the underwriter of events. Once marketeers realized photo's of events were being shared long after events had come to an end, the idea to put a Step and Repeat Backdrop in the photo area of a high profile event was conceived.  They could then charge companies and organizations to have their logos on the backdrop as a promotional service. As you've probably noticed this was a great success. Whenever you see a photo of any red carpet event circulating on the internet, logos fill the background. For organizations that paid for the exposure, their logo's are now being passed around with famous faces all across the internet.
How are Step and Repeats made?
There are many ways to achieve a step and repeat photo backdrop. The simplest way is to purchase a custom printed step and repeat backdrop banner and a banner stand. This will come on a roll(vinyl) or folded up in a bag(fabric), depending on if you ordered a vinyl or fabric backdrop. The backdrop itself will have a top and usually a bottom pole pocket that you can slide the banner stands horizontal bars through and attach to the banner stand's vertical bars. Then just extend and tighten up the telescoping bars to deploy the backdrop.Here's a video showing how to set up a banner stand.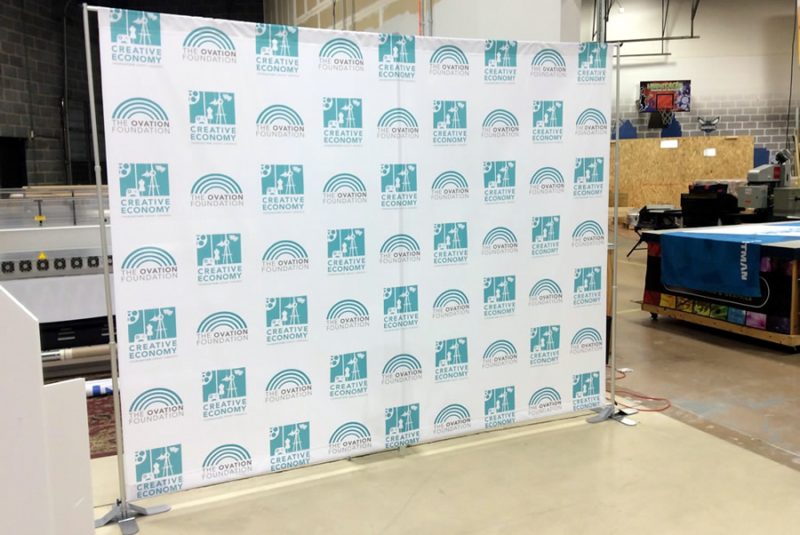 Another way is called a Hop-Up Display. This is engineered to be put and taken down quickly and to be reused may times so the cost is usually more than a banner stand. It come's in a plastic or canvas case with wheels. To set this up you simply remove the hop up from its case and set it face up on the floor. Then pull on two opposing corners until the fabric on the face is stretched tight. At this point it can be easily pushed back to it's compact size, so you'll need to secure the connectors around the edges. Then you can stand it up and finished securing the connectors around the middle area. Here's a video explaining a Hop-Up in detail.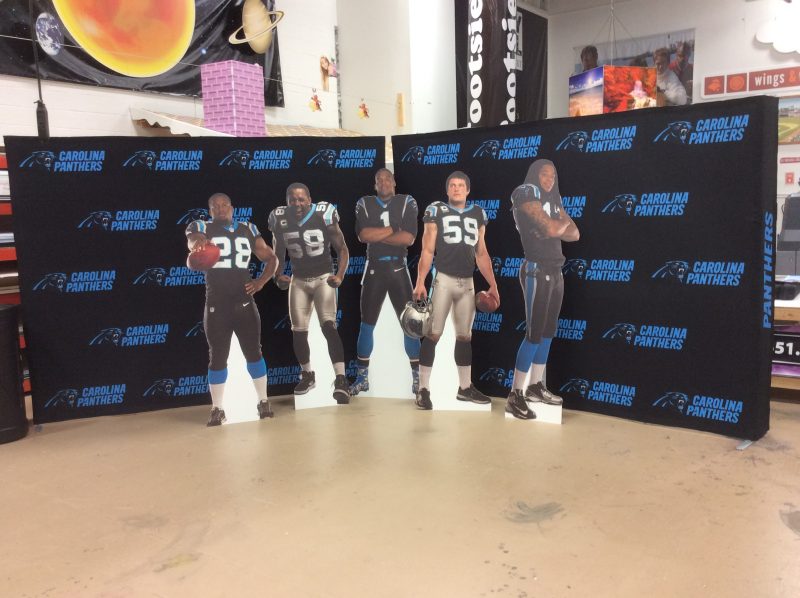 If you have an existing wall,  or even windows, and you just need to turn it into a step and repeat backdrop there's an option for that. Wall wraps or wall murals is a great way to do this. This is achieved by having a printing company like Heritage Printing, Signs & Displays design and print wall wrap vinyl and install it directly to your wall. This is not a portable option and it is a single use product but the end result looks great and you can leave it on the wall as long as you like.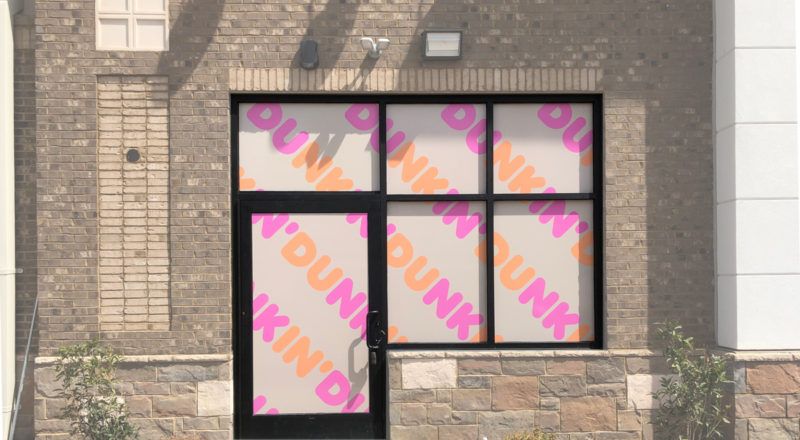 A few other options are rigid substrates that connect together. This can be anything from a heavy duty prebuilt wall to direct printed foam-boards or similar material that are held up by floor stands commonly referred to as Might Mounts. A reputable sign company can provide these and the direct printed substrates to assembly on site.
What's the difference?
The biggest difference in these are the portability and  reusability, and greatly influenced by these factors, the price. If you need something that will be used one time for one event the Mighty Mounts and rigid substrates are probably your best option. Given you can transport the rigid substrates to the destination or are nearby your sign vendor for them to deliver and install them for you.
If you are nearby the sign company and have an existing wall, the wall wrap is probably best. Its the most durable of all of the options listed. If it is temporary there is specific vinyl we use with an adhesive designed to be removed after a short time,  with little to no damage to the existing wall.
If you plan to reuse it several times and will need to move it from one location to another, you should go with a Step and Repeat Banner Stand or a Hop-UP display. The Hop-Up is more expensive but will last much longer and is easier to setup and take down. So consider how many times you'll be using it before you decide on either. Both the banner stand and the Hop-Up Display can have the graphic replaced so you can update your logo's or design without having to buy a new standing system.
If you need help deciding on what option is best for your event, or you need to get an order placed, Heritage Printing, Signs & Displays does all the above and some. Give us a call and we'll help you make the very best of your next event!