Driven Brands: Project Spotlight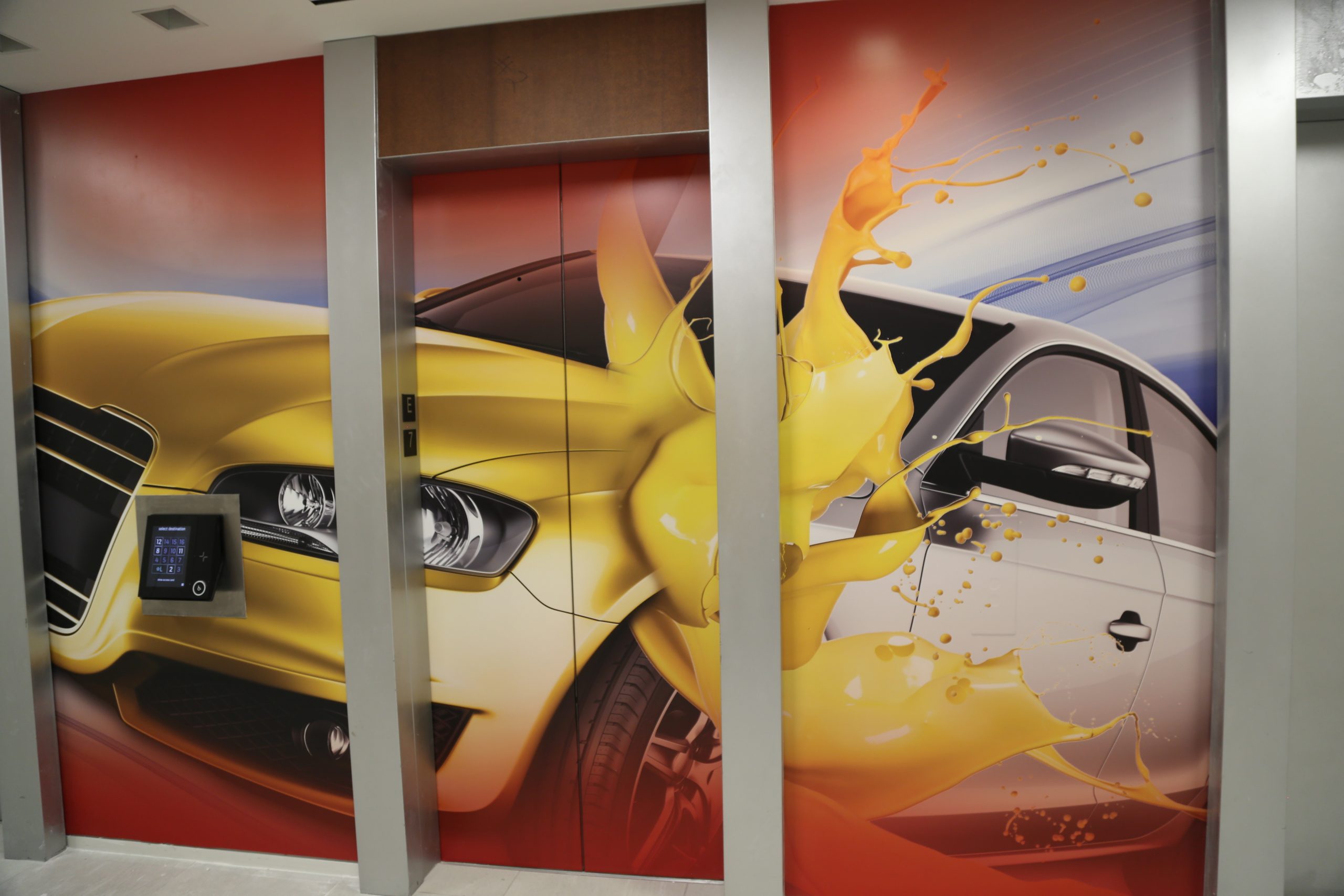 The talented team of designers and sign installers at Heritage Printing, Signs & Displays collaborated with Driven Brands to provide new interior branding for their headquarters in Uptown Charlotte, NC. The custom signage experts installed high-quality elevator wraps, frosted vinyl graphics, wayfinding signage, wall wraps, LED backlit signs, dimensional letters, and standoff mounted signs.
Driven Brands: A Leader in Automotive Aftermarket Service
Driven Brands is the parent company of leading automotive service brands such as Meineke Car Care Centers, Take 5 Oil Change, Maaco, Auto Glass Now, Take 5 Car Wash, and many more. Driven Brands provides a full suite of automotive services across paint, collision, glass, vehicle repair, oil change, maintenance, and car wash to consumers and business customers.
Driven Brands partnered with Heritage Printing, Signs & Displays to update their corporate interior branding with new adhesive vinyl graphics to represent Driven Brands' connection to the automotive services industry and the company's values. The Heritage team was eager to execute this vision with new custom displays and commercial interior graphics.
An Extensive Installation for a Newly Branded Corporate Headquarters
The rebranding effort for Driven Brands involved several components with unique signage elements to accompany them. The project scope included the following sign installation initiatives on the 5th, 6th, and 7th floors:
ID room plaques
Frosted vinyl graphics
Elevator wraps
Training room divider wall
Training room wall graphic
Training room magnetic display
Large dimensional letters
LED backlit corporate timeline
Each component of the interior redesign required the expertise of the Heritage team of professional commercial signage specialists, as well as materials that would endure over time and amplify Driven Brands' space.
The frosted vinyl graphics were contour cut and first surface applied to the office interior glass of board rooms and other meeting spaces. The magnetic vinyl was created from 3M 40C adhesive vinyl, UV printed, matte laminated, rectangular cut, and installed to the walls of one of the meeting rooms. The divider wall had 3M 40C wall graphics applied to the surfaces of the walls. The graphics were UV printed, matte laminated, rectangular cut, and installed. Each elevator wrap was made from 3M adhesive magnetic vinyl, UV printed, rectangular cut, and applied to the elevator doors and surrounding wall space.
The room plaques were made of 3mm clear acrylic and frosted vinyl to properly label the office rooms with the proper floor numbers, room numbers, and color coding to maintain brand consistency. Each plaque was PMS match printed and gloss laminated. The numbers were contour cut and installed with standoff caps applied to the face of the sign. The plaques were securely mounted to the glass and walls to maintain three-dimensional depth.
The Results of a Transformed Space
On the week of the installation, the Heritage team worked tirelessly to install these signage elements in the Driven Brands headquarters. Each signage element was affixed to the installation site with care and with Driven Brands' goals for a transformed and engaging space in mind at every stage of the process. The team's hard work was exemplified in the resulting signage, which added to the professionalism and brand consistency in the space. Driven Brands' connection to the automotive industry was amplified consistently on the 5th, 6th, and 7th floors to captivate partners, franchisees, employees, and visitors alike.
About Us
Heritage Printing, Signs & Displays is the leading sign shop in Charlotte, NC. This talented team of commercial printing professionals specializes in trade show displays, custom signs, and commercial interior graphics that enhance spaces, promote brands, and captivates target customers. If your company seeks to create new, high-quality displays from the award-winning sign company in the Charlotte area, call Heritage Printing, Signs & Displays at (704) 551-0700 or Get a Quote for free today!
#standoffmountedsigns, #elevatorwraps, #frostedvinylgraphics, #wayfindingsignage, #wallwraps, #LEDbacklitsigns, #dimensionalletters, #customdisplays