A Perfect Client
Tuesday, January 11, 2022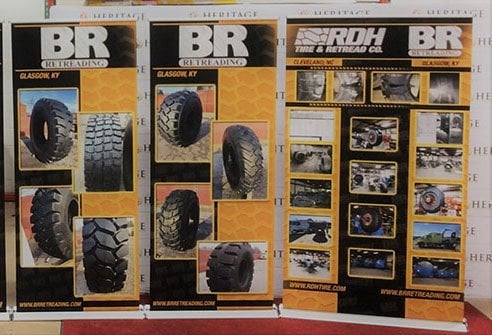 Jerry Hyatt, Project Coordinator at Heritage Printing, Signs & Displays in Charlotte, had the privilege to work with Zach Williamson at RDH Tire & Retread on a large retractable banner order.

"Zach is phenomenal, he responds professionally and promptly, a perfect client" Jerry Hyatt.
From the world wide web at https://rdhtire.com Founded in Cleveland, North Carolina, in 1987, RDH Tire & Retread Co. is the largest retreading operation in the United States. Our successful growth over the past 30 years is a testament to the solid partnerships we've forged with our customers. Those relationships have been built on the consistent integrity of our products and services and our constant commitment to excellent customer service and support.
Utilizing a fleet of tractor trailers that services the Eastern half of the United States, RDH predominately serves dealer clients throughout the Atlantic states, including urban and rural sites from Miami to Boston. We have the capabilities for retreading and repairing all sizes tires up to 60/80R57 and 59/80R63.
RDH was founded on the belief that "Being courteous, efficient and timely will produce the best products in the industry." Over the years, that commitment has proven correct, and we've been consistently rewarded with the opportunity to expand our capabilities and capacity to better serve our clients.
"When it was time for us to update our display, I had a rough concept in mind and at least knew the type of display stands I wanted. Looking online I found Heritage Printing, Signs & Displays and several other companies in the Charlotte area, all had good reviews, but Heritage Printing, Signs & Displays was the only one that had a showroom and invited me to visit that day with no appointment! That was great considering we had a tight schedule to work with.
When I showed up I met Jerry Hyatt took me right around to show me what they could do, and I was extremely impressed. After the tour, we sat-down to discuss the project and what I was looking for. What I thought I had well thought out, really wound up being some pictures and a layout idea with very little else. This did not phase Jerry a bit, and he went right into throwing out some ideas and thoughts on color and graphics that could be used. He really was able to make me feel at ease with the process and get it moving. When I left that day Jerry still had very little from me to work with and I was nervous about how this was going to go with our timeline.
5 days later I get an email from Jerry with his first draft and all I could say was WOW! I couldn't believe what he had done with very little information to work with. After a few tweaks, we were approved and ready for print. All said from start to finish the whole process was 3 weeks, which was outstanding turnaround. The displays themselves were amazing! They turned out so much better than we had ever conceived of having. That was all thanks to Jerry Hyatt and his great vision and work.
Since then we have done 7 trade shows and have been complimented every time on these displays. I would recommend Jerry and Heritage Printing, Signs & Displays to everyone for their needs. I look forward to working Jerry again on our next project for RDH & BR Retreading." Zach Williamson.