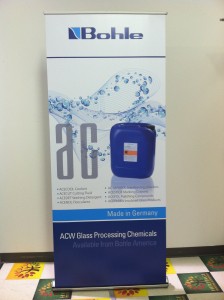 This is a retractable banner stand, sometimes called a "pop-up" or portable banner stand,  that Heritage Printing & Graphics in Charlotte, NC and Washington DC produces for their clients.  Retractable banner stands are portable and very effective at communicating key company messages to the target audience at trade shows, conventions, conferences, special events and meetings as well in store retail Point of Purchase and retail Point of Sale displays.
The graphic on this Pacific 920 retractable banner stand is 35.5″ x 83.75″.  The banner stand hardware is sturdy and can be reused over and over again with replaceable graphics. You can not beat the value of a properly designed retractable banner stand when it comes to communicating your brand at events and meetings.
Contact Heritage today for more details about retractable bannerstands, pop-up bannerstands or other portable banner stands and displays.
Joe Gass @ Heritage Printing & Graphics
www.HeritagePrinting.com



Custom Cut Signs and Banners * Event & Tradeshow Displays & Graphics * Fabric and Textile Printing * Fabric Backdrops, Banners and Displays * Retail POP * Wall, Window & Vehicle Decals & Graphics * Retractable Bannerstands * Backlit Signs * Printed Marketing Materials * Publications * Direct Mail * Branding & Creative Services
Veteran Owned and Operated
2739 Interstate Street, Charlotte NC 28208 (704) 551-0700
22725 Washington St, Leonardtown, MD 20650 (301) 475-1700
2639 Connecticut Ave NW #110B, Washington DC 20008 (202) 609-9761