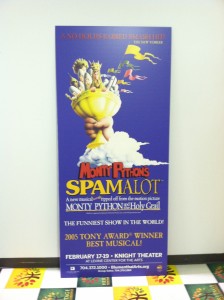 This foam core sign was produced by Heritage Printing & Graphics for a recent presentation of Spamalot at the Knight Theater in Charlotte, North Carolina.
 This sign is approximately 3 feet wide by 6 feet tall. It was direct UV color printed on our 62″ wide format flatbed color printer and cut down on our 5′ x10′ flatbed CNC automated cutting system.
Foam core is a great product to use for internal signs and is a great material to use if you desire to custom cut signs to gain extra attention for those who are attending your next event, trade show or conference.
Joe Gass @ Heritage Printing & Graphics
www.HeritagePrinting.com



Custom Cut Signs and Banners * Event & Tradeshow Displays & Graphics * Fabric and Textile Printing * Fabric Backdrops, Banners and Displays * Retail POP * Wall, Window & Vehicle Decals & Graphics * Retractable Bannerstands * Backlit Signs * Printed Marketing Materials * Publications * Direct Mail * Branding & Creative Services
Veteran Owned and Operated
5900 Harris Technology Blvd #G, Charlotte, NC 28269 (704) 551-0700
beginning May 1st NEW LOCATION: 2739 Interstate Street, Charlotte NC 28208
22725 Washington St, Leonardtown, MD 20650 (301) 475-1700
2639 Connecticut Ave NW #110B, Washington DC 20008 (202) 609-9761