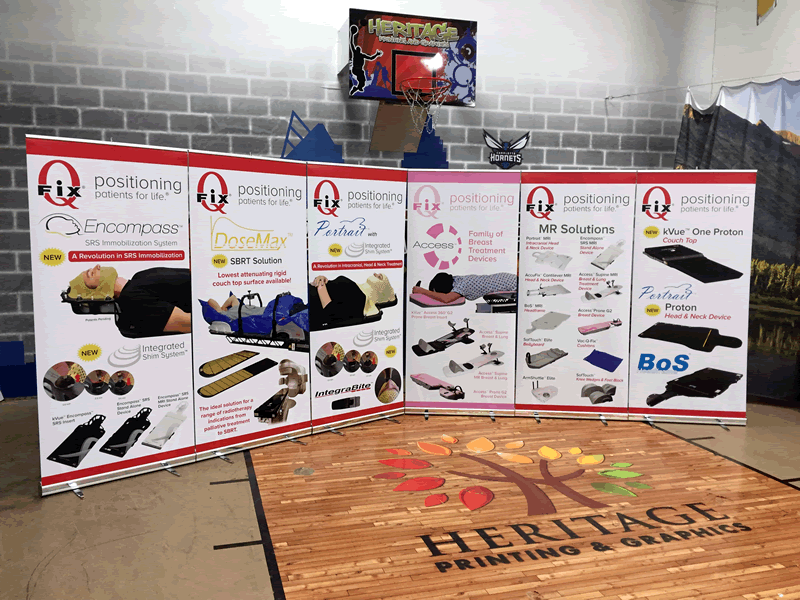 We are always trying to improve; every person that works at Heritage Printing is directly charged, by Joe Gass himself, with "Thinking Outside the Box." Regardless of your position, title or salary, everyone is trying to find ways to improve the production process, ergonomics, customer service or equipment we work with.
Heritage always wants to get better!
Recently, a measurable improvement was made by upgrading one of our vendors! Not only is our product line better, we ran a cost study and actually lowered prices on our retractable banner stands. What could be better than an improved product line at better rates for your customers? It's a WIN, WIN.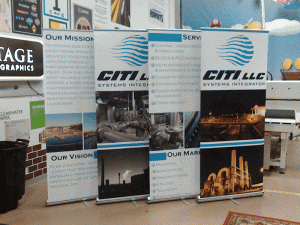 Last year I asked a local convention center "How many conventions & trade shows are held in Charlotte annually?"
The reply was: "We hosted 32 conventions and trade shows, 9 assemblies, 14 consumer shows and 393 local events in 2104!"
That's a total of 448 events held at one single Charlotte event venue in the year 2014. That intrigued me so much that I researched further and found Charlotte's Got a Lot, and according to their information, there are 88 different event venues in Charlotte.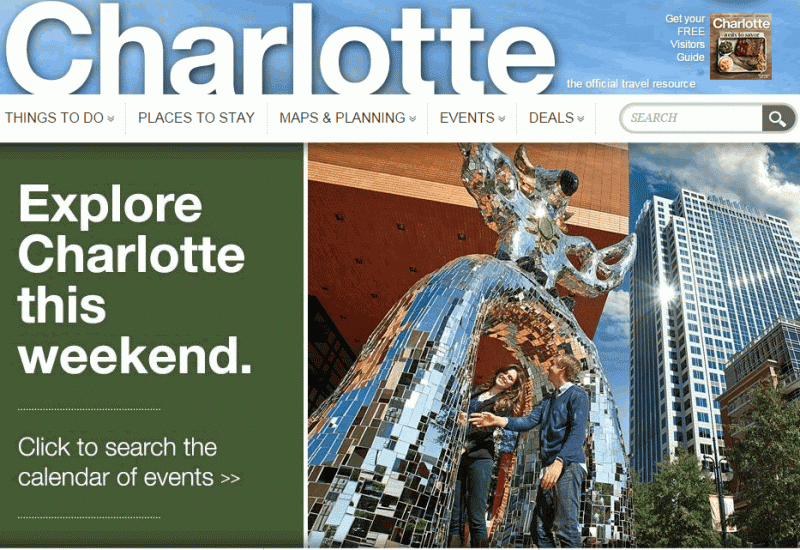 Kevin Math
Let's do some simple math:
88 venues x 448 events = 39,424 events in Charlotte in 2014!
I'm sure that all 88 venues did not host 448 events, but even if each one only hosted half as many:
88 venues x 224 events = 19,712 events in Charlotte last year.
If they only hosted ¼ of the 448 approximated events from 2014, the estimated total would still be almost 10,000 events:
88 venues x 112 events = 9,856 events in Charlotte!
How many events have you attended and NOT seen Retractable Banners?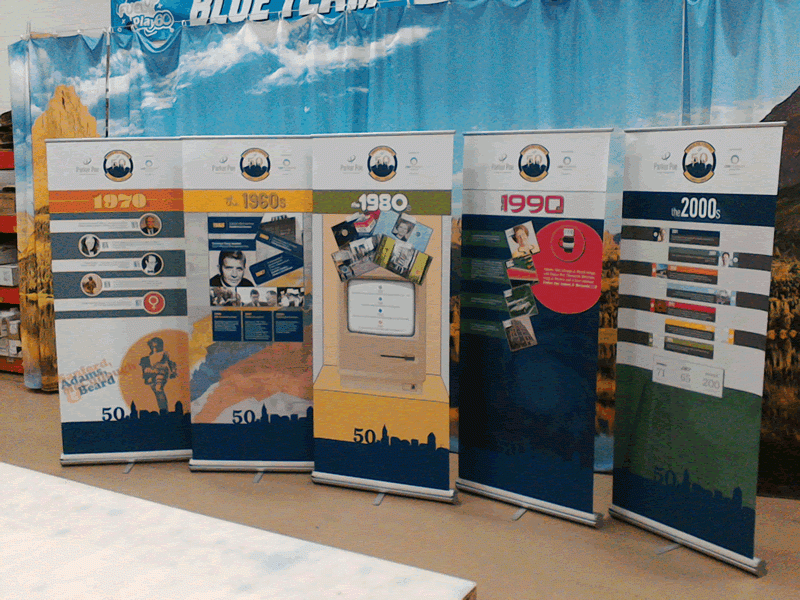 That's what makes this so much better, all those event vendors need high quality banners and backdrops and Heritage Printing now has them better than before and at lower prices.
Many of the orders we receive are what we categorize as "Hair on Fire" requests. For a collection of reasons:
Vendors arrive at their event venue in Charlotte and their banner is either missing
Displays are broken
They forgot them all together
Our ability to manufacture a retractable banner in our Charlotte sign shop and deliver it to your event venue is unmatched. Our expedited services include our immaculate customer service.
No other sign shop in Charlotte is as dedicated to making your event banner purchase stress free as we are here at Heritage Printing. We go the extra mile to make you look good at the event without all the drama. From your initial contact to the delivery of your banner, we make getting a retractable banner easy and stress free.
We provide 100% In-House Printing and direct shipping to our customers!
With all these events, the need for banners and backdrops is higher than ever. That's why we are here, we make almost any type of banner or backdrop imaginable, specializing in Step & Repeat banners (the most popular for photo and video backdrops).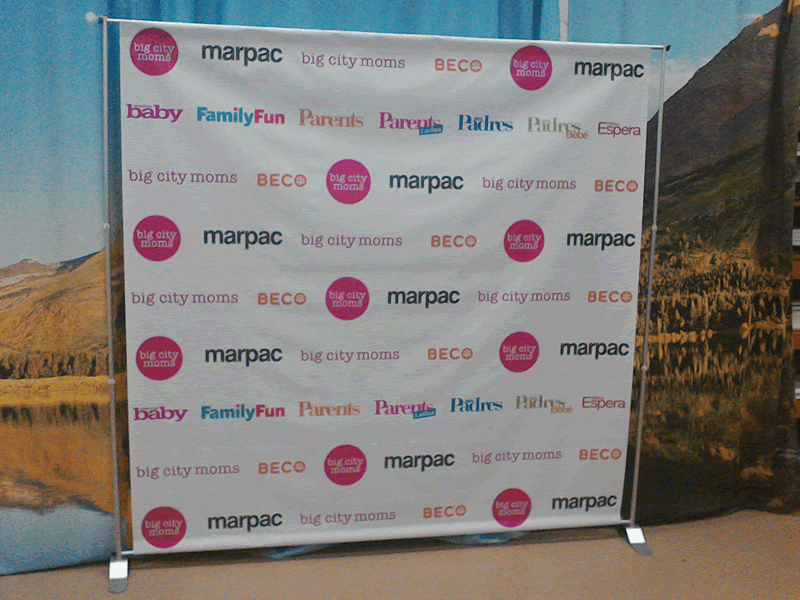 Step and repeat banner stands and fabric backdrop displays have become an essential part of every company's branding campaign. At every convention and trade show that's hosted in Charlotte (and across the nation) you will see a plethora of fabric and vinyl step and repeats. Step and repeat banners and backdrops are popular because they positively position your brand to the thousands and possibly millions viewers, both at the event, on social media and via TV viewers when broadcasted.
Smartphones empower anyone to capture and post
immaculate images to social media in minutes.
Step and repeat banners are often used as photograph and video backdrops at interviews, sporting events and press conferences. Adjustable banner stands and retractable banners are a favorite choice for many growing businesses because of their portability, ease of use and value.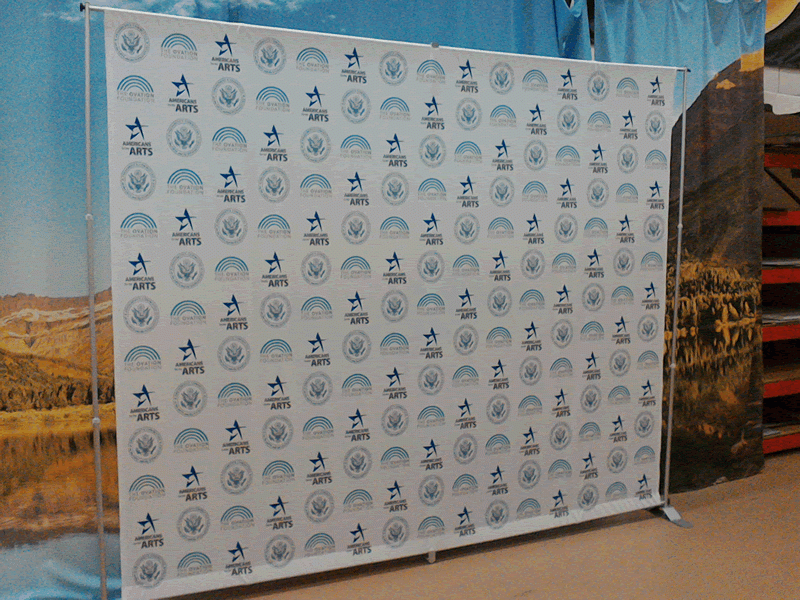 We specialize in Step and Repeat Banners
Our In-House capability means we eliminate the middleman
Work directly with a Heritage Printing project coordinator from beginning to end
Our staff are wide format printing experts
We are strategically located for expedited shipping
Local delivery to Charlotte event venues
Experienced manufactures of custom trade show displays
We employ several graphic artists to help with any design needs
You never get a second chance at a first impression!
Your trade show booth is a direct reflection of you, your business and your products. If you show up with outdated signage, old & inaccurate displays it makes your competitor look even better. When at an event, your direct competition is usually directly across the aisle, obsolete marketing materials gives them an advantage over you!
We offer a grab bag of trade show booth signage and marketing materials, from brochures to 3-D Hanging Structures, we know how to make your booth command more attention and be remembered. We make your banners and backdrops with your company logo to form an impressive background for your booth.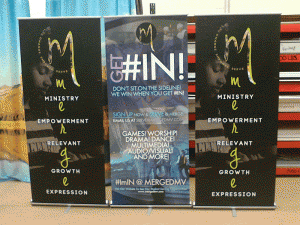 We print a variety of unique backdrops to represent specific products or specific events. The fabric backdrop is easily replaced on the same banner stand. Retractable banner stands are the most popular; we make more Retractables than any other event signage item we produce. Impressive and easy to travel, a retractable banner is a must have for regular tradeshow vendors.
3 Tips for a Successful Trade Show
Show up early

Wear comfortable shoes

Use VIBRANT Marketing Materials from Heritage Printing
Kevin Smith
Marketing Manager
Heritage Printing
Retractable Banners
Retractable Banners
Retractable Banners
Retractable Banners
Retractable Banners
Retractable Banners
Retractable Banners
Retractable Banners