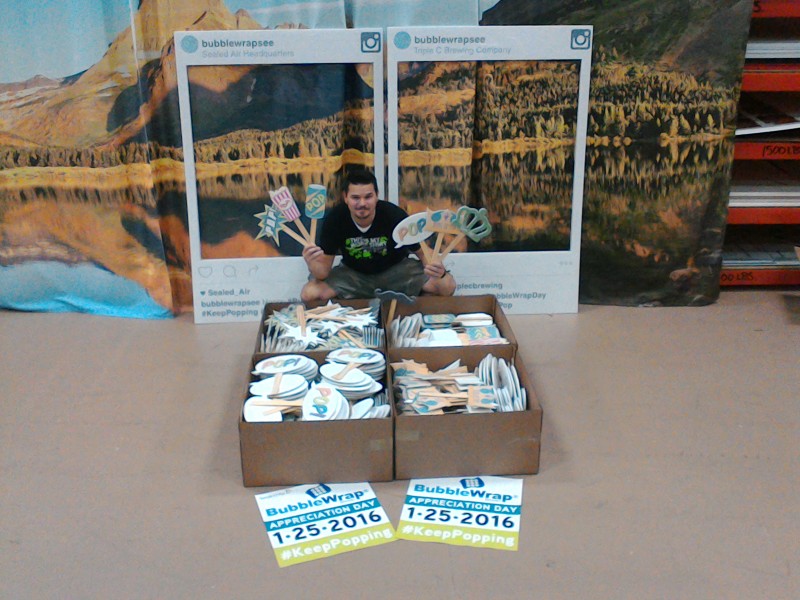 One of the fantastic aspects of our daily duties is the distinctive projects and enthusiastic individuals we are blessed to work with. Sealed Air (the manufactures of the bubble wrap everyone loves to POP) broke the mold when it comes to fun projects and unbelievable clients.
THE EVENT
A recent project (one of many we've enjoyed w/ Sealed Air) was the creation of "POP Props" to celebrate Bubble Wrap Appreciation Day, which is observed on Monday January 25. Much of the celebration will take place on social media with posting, sharing, liking and retweeting the Bubble Wrap fun.
THE CONCEPT
---
Lamar Scott, our Lead Graphic Designer and Project Manager, has worked with Sealed Air on numerous occasions and was quoted: "It's a joy to work with enthusiastic and creative groups of people, Sealed Air definitely fits the bill!"
---
Lamar worked with the Sealed Air creative staff to brainstorm the upcoming event and how to participate in the event in a unique manner. The idea of attaching bubble wrap to unique "POP Props" was the end result. After testing the concept to satisfaction, the proof was approved and we were ready to "Go to Print."
OFF TO PRODUCTION
The order was for 800 "POP Props" all wrapped in bubble wrap and 100 custom printed stickers. Here's the list:
7 Unique POP Props
Mustache POPs
Soda POP Can
POPcorn
King of POP Crown
Queen of POP Crown
POP Star
POP Callouts
Bubble Wrap Appreciation Day Stickers 24" x 24"
Custom Picture Frames (used for social media selfies)
Everything (except the 100 stickers) were Direct Image UV Printed to foam core substrates with bubble wrap adhered directly to the printed board. The bubble wrapped boards were positioned on our CNC Router, which custom cut each POP Prop to the exact dimensions, now the POP Props were ready for handles.
Trevor Gibson and Brent Thompson produce nearly everything in our Charlotte sign shop and they take exceptional pride in the "Entertaining" projects. Attaching sticks to 700 props is not going to be the highlight of your week, but the guys really got into the project and with the stereo a blast, they knocked it out with a lot of jokes also attached at no additional charge.
---
"Everyone loves to POP Bubble Wrap and Sealed Air makes it a lot more Fun!" Trevor Gibson
---
SEALED AIR
Sara Abadi, Global Communications Specialist with Sealed Air was quoted: "We're going to take a lot of pictures and videos with our friends, kids and even our pets having fun with our new POP Props. Then we're going to post them to our Social Media channels using the festive hashtags #BubbleWrapDay and #KeepPopping."
Sara elaborated further on Sealed Air: "We love our new home in Charlotte and will be protecting local people and places that help make the #QueenCityPop."
She also had good many things to say about our community: "From NASCAR to the Charlotte Symphony, we're partnering with cultural icons, organizations, and hot spots around town to engage the Charlotte community with our historic brand and show them that we appreciate what makes the Queen City great."
Follow Sealed Air and all their social media antics thru their website at: www.SealedAir.com and don't forget to stop by one of their POP Up stress relief stations at the Gantt Center or Triple C Brewery on January 23. POP some Bubble Wrap, take a few selfies with the new customized frames and share the fun on social media.
IN CONCLUSION
Every day is a new opportunity, another chance to have some fun and make someone smile, we love what we do and working with incredible people on cool projects keeps it very interesting.
Kevin Smith
Marketing Manager
Heritage Printing